2020 stands to be a banner year for marijuana legalization. That's even with all the pressure from the coronavirus crash.
And cannabis legislation is creating new profit opportunities right in front of your eyes. We're going to show you one of our top marijuana stocks to buy as this unfolds.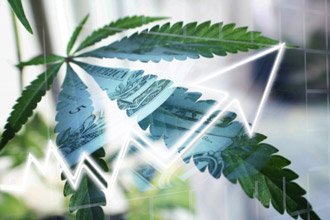 Research from the National Institute for Cannabis Investors (NICI) suggests that full cannabis legalization could ignite 2,900% growth for the cannabis industry. In 2019, it was valued at $10.8 billion. But the U.S. market could ultimately rise to $300 billion in value.
It's just a matter of how quickly this will happen. But it could be faster than you think...
Believe it or not, there are nine states set to vote for marijuana legalization in 2020. And other states are looking to legalize through legislation before Election Day.
While public opinion continues to shift in favor of legalization, politicians are also starting to realize the tax revenue is too good to pass up.
We recently covered a potential marijuana catalyst from the state of Oklahoma. Oklahoma Representative Scott Fetgatter considered that the $220 million of budget lost to combat COVID-19 could be replaced with revenue from legal marijuana.
Other states have already been cashing in. A week after legalizing marijuana, Oregon sold $11 million worth. Illinois' tax revenue on legal marijuana is expected to rise from $34 million in 2020 to $375 million in 2024.
What's more, marijuana dispensaries have been considered essential in 30 states during the COVID-19 lockdown, at least in a medical capacity. That's helping them power through the downturn while other businesses flounder.
As the case for legalizing marijuana strengthens, these states are the most likely to legalize marijuana in 2020...
Marijuana Legalization 2020: 9 More States
As the demand for marijuana proves resilient in the current downturn, it could boost pot stocks sooner than expected. CNBC even has Curaleaf Holdings Inc. (OTCMKTS: CURLF) Executive Chair Boris Jordan recalling how the lift on prohibition "became a major revenue generator" for governments after the Great Depression.
So it's hard to think other states would not consider cashing in at this point. States that were once on the fence could join the several ready to vote on it come election season.
Here's a list of states that could potentially join the cannabis legalization 2020 wave...
Arizona
Arkansas
Florida
Idaho
Mississippi
Missouri
Nebraska
New Jersey
North Dakota
Oklahoma
South Dakota
Virginia
By the end of the year, this might not even be the whole list. And now, here is a marijuana stock to buy that's a steal on the coronavirus dip...
Cannabis Legislation 2020 Will Boost This Cannabis Stock
Constellation Brands Inc. (NYSE: STZ) has long been a favorite cannabis stocks at Money Morning.
It's fallen 19% year to date since the coronavirus crash. But we look at that as a nice discount on one of the best cannabis buy-and-holds out there.
The stock went on a 15% tear to finish off 2019, substantially beating one of the largest cannabis ETFs, the ETFMG Alternative Harvest ETF (NYSE: MF), which was down 50%.
That's because this company is a well-diversified beverage company, not entirely dependent on the cannabis market to survive. Constellation is behind for some of the most well-known brands in the world, such as Modello beer and Svedka vodka.
Its previous beverage holdings are enough to keep it lasting through the years. But it also has a large stake in one of the most important cannabis companies in the world. Last year, Constellation bought a 38% stake in Canopy Growth Corp. (NYSE: CGC), a huge name in the marijuana industry, promoted by the likes of Snoop Dogg and Martha Stewart.
So an investment in constellation not only gives you the upside of the surging cannabis market, but you also get the safety of a $30 billion beverage company.
That means it's a good combination of growth and income. Constellation has a dividend yield of 1.84%. But analysts also give it a growth target of $216 for the year. That's 43% growth in 2020.
Action to Take: The marijuana industry is doing better than you think in the coronavirus pandemic. Not only is marijuana an essential product, but states are also becoming more open to the idea of collecting tax revenue on adult-use cannabis. There won't be a better time to get your hands on Constellation Brands Inc. (NYSE: STZ) at a 19% discount from the dip. Buy it now for 43% profit potential in 2020.
Why Startups Can Have an Edge During a Recession
Uber, Airbnb, Slack, Pinterest, and Venmo have something big in common - something other than their big names.
These startups were founded during the last recession.
And now, some of the most iconic companies of our time could launch into Fortune 500s during days like today.