Emerge Energy Services LP (NYSE: EMES) hasn't stopped soaring since its May 2013 IPO – and EMES stock is on track to be one of the best energy plays of 2015.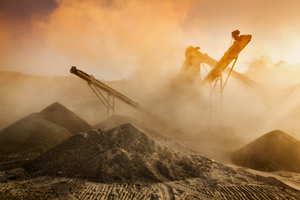 That's because sand fracking companies have been on a massive tear recently. Houston-based Hi-Crush Partners LP (NYSE: HCLP) is up 17.7% so far this year. U.S. Silica Holdings Inc. (NYSE: SLCA) has leaped 34.6% higher in the last three months alone.
These firms are booming thanks to hydraulic fracturing – the process of pumping sand and water down a well at high pressure to infiltrate rock formations so oil and gas can flow to the surface. The sand left over from this process props open those tiny pathways in the rock so fossil fuels can escape.
Drillers have been using larger amounts of sand in the fracking process because it leads to much better energy production. The heightened sand demand has sent EMES – which operates as a master limited partnership (MLP) – surging since it hit the market.
Here's just how well EMES stock has performed – and why it's a buy right now…
How EMES Stock Has Crushed the Broader Market
Most investors didn't expect a company that digs sand to be the hottest stock of 2013.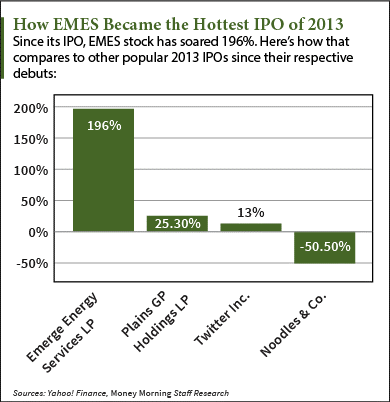 That's because the hot stock had a cold start.
Emerge Energy's May 2013 IPO initially planned to raise $150 million by offering 7.5 million shares at a $19 to $21 range. At the midpoint of that range, it would've commanded a market valuation of $464 million.
EMES stock ultimately had a rough debut. The MLP priced below its range at $17 a share and raised only $128 million. It lost 2.6% on its first day.
A year later, EMES shares had skyrocketed 408% from its $17 offer price to $86.41. The stock hit $144.17 a share on Aug. 29, 2014. The Wall Street Journal even named Emerge Energy Services LP the hottest IPO of 2013 over much larger deals like Twitter Inc. (NYSE: TWTR) and Noodles & Co. (Nasdaq: NDLS).
Like the rest of the energy sector, EMES stock has fallen far from those dizzying summer highs. It has plummeted 65.1% since its August 29 peak and 50.7% in the last six months alone.
Despite the recent downturn, Emerge Energy has still smashed the broader market by a huge margin. In the two years since its debut, EMES stock has beaten the Dow Jones and S&P 500 by 185.4% and 176.1%, respectively. Its share price has slightly beaten the S&P 500 Energy sector by 0.01% over the last three months.
Now is the perfect time to invest in EMES stock as it starts to recover from its slump. But there's an even better reason why you should buy it right now.
It has to do with a stunning statistic the company pointed out in its Q4 conference call – and it's going to fuel Emerge Energy's bright future…
Why EMES Stock Is a Buy
The sharp drop in oil prices this year has caused an equally significant drop in rig count. Baker Hughes Inc. (NYSE: BHI) reported that the U.S. rig count fell by 20 to 1,028 for the week ended April 2. That marks the 17th straight weekly decline.
The declining rig count should also mean declining demand for frac sand - but that's not turning out to be the case.
Producers have found that they can get more oil out of each well by pumping more sand down them. According to Investopedia, one company said a new well design of its Permian Basin wells uses 1,600 pounds of sand per foot - 2.5 times more than its old design. The company found that those new wells produced 60% more than the old ones.
You see, drilling companies are increasing their sand intensity per well in order to make up for the lack of production seen from falling rig counts. Emerge Energy CEO Robert Lane noted in the Q4 conference call that sand demand won't be impacted by rig count, even though the count has fallen 40% so far this year.
The growing demand for frac sand illustrates EMES stock's growth potential. At a one-year target estimated price of $69.50 a share, Emerge Energy could be the emerging energy play we've been waiting for.
The Bottom Line: EMES stock has had one of the best post-IPO performances in the history of energy MLPs. Although tumbling oil prices have brought the stock tumbling down with them, increasing sand demand ensures EMES stock is poised for massive gains this year.
Bonus Content: You can make 2015 your wealthiest year in a few simple moves. You just need to know the three common investing habits to dump immediately, the single most effective strategy for your portfolio, and five stocks to get you started to a wealthier you. Get all of that right now in this exclusive guide…
Follow me on Twitter: @AlexMcGuire92
Related Articles: