Hi-Crush Partners LP (NYSE: HCLP) stock is up nearly 115% since its IPO in August 2012.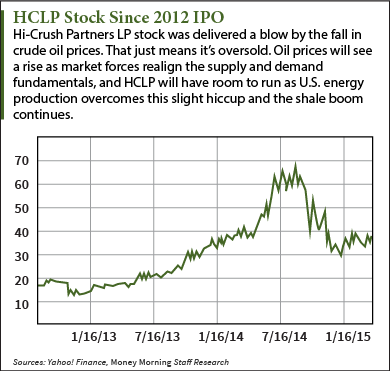 And it's up almost 20% already in 2015. But, this "frac sand" company still has a lot of room to run.
HCLP is a domestic producer and supplier of premium monocrystalline sand – "frac sand."
Frac sand is an integral part of shale oil and natural gas production.
You see, the modern fracking industry is quite new. Fracking as we know it today began at the turn of the century when both oil and natural gas production were beginning to slide. Domestic producers were looking for new ways to tap previously untapped sources of oil and natural gas.
One option was shale. But this dense, impermeable rock was all but written off. Russell Gold documented this in the 2014 book The Boom: How Fracking Ignited the American Energy Revolution and Changed the World.
It is true that there were methods for fracturing the rock and extracting the trapped hydrocarbons. But the gels used to crack shale would also fill those new pores, preventing oil and natural gas from flowing into the wells.
In 1998, a petroleum engineer named Nick Steinsberger of Mitchell Energy proposed pumping millions of gallons of highly pressurized water into the shale well. In doing so, he hoped that would crack the shale without closing it back up.
It worked – and a new era of natural gas and oil extraction was born.
"The advent of unconventional oil in the U.S. has fundamentally changed the energy world," Money Morning Global Energy Strategist Dr. Kent Moors said. "Despite having to import almost 70% of its daily crude needs only a few years ago, the American market is now looking to become energy independent in as little as 10 years."
The future for unconventional oil production is promising. And HCLP stock will continue to grow alongside what has become a shale oil boom.
But first, here's a glimpse at HCLP stock's numbers….
HCLP Stock Is an Underpriced, Dividend-Paying Machine
The HCLP dividend is a good place to start. It gives just small a window into why HCLP stock is a stock to buy.
Since its first dividend payment in October 2012, dividends have grown 184%.
This is up from $0.2375 a share to $0.675. That makes for an outstanding HCLP dividend yield of 6.6%.
The HCLP dividend yield bests the industry average of 4.6%.
HCLP has also seen rapid sales growth. In 2014, it posted revenue of $386.5 million. That's up 116% from the $179 million in 2013. And that was up 128% from 2012's $78.5 million.
Its price-to-earnings is a very low 6.5. Compare that to the S&P's P/E ratio of 19.1.
This is because HCLP stock is sensitive to crude oil prices, which had fallen as much as 60% from June 2014 to March 2015. As prices fell, oil companies drilled less wells because it became less profitable. And since fracking is such an important component of domestic oil and natural gas exploration, HCLP took a hit.
But crude oil prices have bottomed. U.S. oil production sparked a supply glut that put downward pressure on prices. As rigs are brought offline in an unprofitable oil price environment, that glut is going to go away. This is all while demand continues to ramp up.
But here's the main reason why HCLP stock still has a lot of upside…
How the Shale Oil Boom Will Drive HCLP Stock Price
Fracking is done by pumping water, frac sand, and a mixture of chemicals into a horizontally drilled oil well. This highly pressurized combination will force the rocks to crack, which will help draw oil and natural gas into the well.
This is where the so-called "frac sand" comes in. To keep those fractures from closing up, there needs to be a "proppant," or some substance to keep those cracks from closing.
HLCP sand is that proppant. It is mixed in with the pressurized liquids that are pumped into the well and is left behind to keep those fractures propped open.
HCLP excavates high-quality sand from deposits in Wisconsin.
It holds reserves of this sand in its 751-acre facility in Wyeville. But it also has a 98% interest in an Augusta facility.
Both facilities have a sophisticated light rail infrastructure. This allows for the delivery of 4.2 million tons of frac sand a year to the Midwest and also to Pennsylvania, Ohio, New York, and Texas.
Fracturing rocks to goose oil and natural gas extraction has been going on for decades in one form or another. But it was the developments at Mitchell Energy in 1998 that helped bring on a shale boom that was to happen less than a decade later.
The boom, Gold writes in his book, can be traced back to September 2008. This was just before Lehman Brothers collapsed, and when Brigham Exploration began its shale exploration in the upper Midwest Bakken region.
In January 2007, the Bakken region produced 132,106 barrels of oil a day and another 187,929 cubic feet of natural gas, according to the U.S. Energy Information Administration.
The shale boom has swelled these numbers almost tenfold. In March 2015, these figures stood at 1.3 million barrels of oil a day and 1.5 million cubic feet of natural gas. This is just one of seven regions where this shale production is taking place.
Production from these seven regions amounted to 5.6 million barrels a day of oil, and 46 million cubic feet of natural gas by the most recent EIA figures.
And demand for the type of proppant HCLP produces and delivers will only grow with this burgeoning industry.
While the shale oil boom is more than six years old, and falling oil prices delivered a blow to fracking companies, it's far from over. The EIA forecasts that U.S. oil production will peak in 2020 at 9.6 million barrels per day, before falling to 7.5 million barrels per day by 2040.
The Bottom Line: The future for the modern fracking industry looks bright. And as shale exploration in the Midwest continues, HCLP is going to be a crucial player in ensuring these drillers can recover as much oil and natural gas as possible. HCLP took a hit from falling oil prices, but those markets will reorient themselves and this slight hiccup won't diminish the value of domestic energy production.
More on Energy Stocks: In an environment of low oil prices, it's natural to think that the energy sector is going to get rattled. But on the contrary, it will strengthen it by prompting bigger names to go on an M&A spree – building up new heavyweight oil companies…