We talk a lot here about "Legal Frontrunner" stocks – companies whose shares are being accumulated by a cadre of very select investment funds.
We've made a lot of money for you folks with this strategy.
But there's one strategy that's even better than that.
Insider buying
On a stock that's beaten down from its highs, the single-best "Buy" signal is insider buying.
My latest proof-point on assertion is Vuzix Corp. (Nasdaq: VUZI), the "Convergence Economy" stock we recommended back in September 2015 – and then re-recommended several times over the past few months.
Shares of the "augmented reality" (AR) stock soared as much as 15.3% today after the company revealed the name of its newest industrial partner.
"What I see, Bill, is that Wall Street and the rest of the investing world are finally starting to understand Vuzix and the business that it's pursuing," said Michael Robinson, a close friend and colleague here at Money Map Press who runs our Radical Technology Profits advisory here. "In fact, I think three points in particular are key. First, we're at a 'tipping point' in terms of the rollout of advanced augmented reality systems with enormous upside for years to come. And, second, Vuzix is actually the go-to firm for enterprise clients, especially now that the company is working on the release of its next-gen M300 smart glasses. Third, this is a very small company… a small company pursuing a very big market. And that means the potential impact on this company's revenue and profits… well, would be huge."
And we saw this coming.
From the start.
Indeed – and this is kind of scary – this prediction has played out exactly as we told you it would.
But here's the best part: This company is riding a monster wave… one of the new businesses emerging in the tech sector. And that means there's still plenty of money to be made on this stock.
Let's take a closer look – starting with our initial prediction.
Our Crystal Ball
We topped that initial research report back in September 2015 with the headline "Earn 80% on This $4 Play on the Convergence Economy."
Ten months later, Vuzix is up 80.1%.
Wow…
And folks who follow Private Briefing have had several shots at these hefty gains: We've re-recommended the shares several times after our initial report. And Vuzix shares have zoomed 31% in the last month and 74% in the last 90 days.
When we look for profit plays, we look for stocks with multiple triggers.
And Vuzix had a bunch…
But the capper – the one that sealed the deal – was an array of open-market purchases by corporate insiders… including CEO Paul J. Travers, CFO Grant Russell and Director William Lee.
In my 1998 Prentice Hall book, Contrarian Investing: How to Buy and Sell When Others Won't and Make Money Doing It, co-author Anthony M. Gallea and I found that such insider buying was one of the best predictors of future stock gains.
There's a reason for that… a good reason.
Insiders sell their holdings for many different reasons: for estate planning… for tax reasons… for diversification… to raise cash for a new house.
But insiders buy for one reason – and one reason only: They see an opportunity for profit… big profit.
Insiders obviously have a unique view of their company's prospects. So when they put their own money at risk on their own company's shares, they're not doing so to make a point or two on the stock.
They're doing so because they see an opportunity to make a double or a triple on their outlay… or even better.
Lots of subsequent research supports this.
And our "Legal Frontrunner" strategy is derived from this predictive power of buying by corporate insiders.
You see, during the course of our research on corporate insiders, we found that there was a subset of investors – whom I often referred to as "knowledgeable outsiders" – whose purchases were also predictive of future gains.
These "knowledgeable outsiders" include investing icons like Warren Buffett or George Soros, or activist investors like Carl Icahn or Nelson Peltz. There's also a select group of hedge-fund players – like the Baker Bros. in biotech – whose specialties give them unique insights into the areas they focus on.
With Vuzix, however, we didn't have to drill down that far: There was insider buying – starting at the top with the CEO and CFO.
And there's more…
There were other catalysts that made us like this stock.
And the biggest was the "Convergence Economy."
It's All Coming Together
The global tech sector has reached a unique juncture. No longer are we just talking about PCs, or cellphones, or the Internet, or semiconductors, or software in standalone terms. Sectors are converging in ways that are creating "pools of innovation" – which, in turn, create massive profit opportunities.
For instance, powerful chips, robust software, super-high-speed networks, mobile communications and robust sensors are combining to create the "Internet of Everything," or IoE, which promises to connect 50 billion devices within the next few years. That will generate reams of data, which can be processed using the powerful chips and software. And that data can be used to create all sorts of new businesses.
General Electric Co. (NYSE: GE), for instance, has created a new software package to create a kind of parallel internet – an "industrial internet" that opens the door for new revenue opportunities for that firm. That's why – when Wall Street looked at GE and saw a wheezing industrial firm – I saw a new "digital-industrial" with a lot of growth potential. Indeed, this "boring" stock has given us total returns approaching 25%. And Wall Street is starting to "like" GE.
As a maker of "smart glasses" – for industry – Vuzix is just such a Convergence Economy" play.
If you give it a bit of thought, you can see the meshing of sensors, mobile communications, software, specialized microchips and cloud-based technology – yet another "pool of innovation" that's spawned a new market with hefty potential.
According to ABI Research, the wearable tech market will grow to 485 million annual shipments by 2018. More than 75 million of these will be smart glasses, a market ABI's analysts value at $15 billion.
Forrester Research estimates that enterprise customers will adopt 400,000 smart glasses this year. By 2025, more than 14 million U.S. workers – about 8% of the workforce – will be using these "augmented optics." Given that companies will drop more than $30 billion on these wearable devices over the next 10 years, there will be some hefty beneficiaries.
But Vuzix will be the biggest.
"I believe this proves what I have been saying about this company for some time now," Michael said. "This is the best small-cap play on AR you can find today. This is a company that has great products and leadership and that is poised to give investors massive returns."
Today's surge – triggered by new news on the company – punctuates Michael's point.
This Dance Is Just Starting
In an announcement earlier today, Vuzix said XOEye Technologies, based in Nashville, had become one of its first "Vuzix Industrial Partners" (VIPs) in North America.
This newly launched, invitation-only enterprise channel support program is exclusive to the most-successful developers of Vuzix's M100 line of smart glasses. This initiative will give XOEye access to the M300 smart glasses before that product is officially deployed on a fully commercial basis.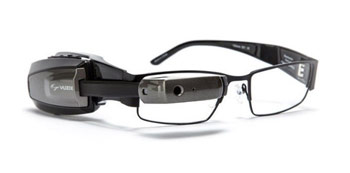 Investors got excited about this announcement because it signals the new revenue opportunity represented by the M300 rollout. And the agreement also signals the fact that developers are working on new applications for this new product line.
XOEye has already enjoyed some quantifiable successes with the M100 smart glasses.
Indeed, with Lee Co., where 500 technicians were given M100 glasses, it's already generating a return of $20.11 for every $1 invested.
"We are excited about the results Lee Co. has experienced," said Aaron Salow, XOEye's CEO. "With our addition as a VIP, we expect to support accelerated adoption of the XOEye-enabled Vuzix product as the smart glasses market expands and deployments proliferate. The support the VIP program provides will enable us to execute on a larger scale."
XOEye recently received early shipments of the first M300 smart glasses – to begin porting XOEye's "Vision" software to this new platform. The key features of the new M300 – including improved ergonomics, high-performance Intel Corp. (Nasdaq: INTC) chipset and improved 13-megapixel camera with image stabilization – perfectly align with XOEye's core competency of connecting a client's remote workforce to the company's data systems and expert knowledge base through real-time video and audio collaboration, said Travers, the Vuzix CEO.
This will rev up Vuzix's business for the rest of this year, next year – and beyond, he said.
Other VIP partners receiving M300 glasses have been identified, including NTT DoCoMo Inc. (NYSE ADR: DCM), Japan's largest mobile communications company, and NS Solutions Corp., a subsidiary of Nippon Steel (OTC ADR: NSSMY).
This illustrates the fact that the augmented reality market is reaching a commercial critical mass.
The AR market could be worth as much as $120 billion in the next few years, which is setting this company up for a major run.
That market heft – coupled with Vuzix's relatively small size (a market value of only $124 million) – has Wall Streeters finally visualizing the massive upside this stock could have.
Even after its recent hot streak, we're talking about a stock that's still only trading at about $8 a share.
"Just as you said when we last talked, Bill, the bottom line here is that you just don't find companies this small, at the very beginning of its growth curve, that's serving a market this big," Michael said.
We found this one… and we brought it to you.
Have a great weekend.
[Editor's Note: Unless otherwise directed – as we've done in our earlier reports on this stock – we recommend investors employ a 25% "trailing stop" on all holdings.]
Related Reports: