Early this week, in a 250-page filing with U.S. securities regulators, Alibaba Group Holding Ltd., filed for what could be the biggest initial public stock offering (IPO) in history.
The Hong Kong-based company didn't say how much it intends to raise in the deal. But one report says Alibaba wants to raise between $15 billion and $20 billion – selling a 12% stake in the company to make that happen.
A deal of that size would dwarf the previous IPO kings – the $18 billion 2008 offering of Visa Inc. (NYSE: V) and the $16 billion IPO of Facebook Inc. (NYSE: FB).
According to Wired's Ryan Tate, an offering of this size would give Alibaba a $168 billion market cap – making it smaller than Apple Inc. (Nasdaq: AAPL) and Google (Nasdaq: GOOG), but larger than Facebook, Amazon.com Inc. (Nasdaq: AMZN) and eBay Inc. (Nasdaq: EBAY).
"That's not an unwarranted number," Tate wrote. "Alibaba is among the top three Internet operations in China, the world's second largest economy. According to its filing, the company pulled in $5.6 billion in revenue and $1.4 billion in profit last year. Gross sales from its three largest sites – Taobao (similar to Amazon), Tmall (similar to eBay), and Juhuasuan (group buying) – totaled $248 billion. And nearly 20% of its business comes from mobile devices, which means it oversees about 76% of China's mobile e-commerce. The company claims 231 million active buyers and 8 million active sellers across all its sites, and it's growing at a rapid clip. Revenue spiked 72% last year, according to [the securities] filing."
In short, this is a Godzilla-sized deal – one that's befitting of a true market-leading heavyweight like Alibaba. And the waves the IPO creates will have plenty of ripple effects. (To understand just how big this deal really is, check out the accompanying graphic.)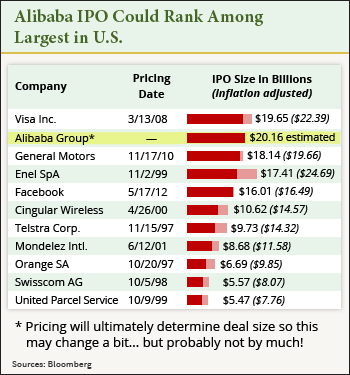 As we told you last week, Money Morning Chief Investment Strategist Keith Fitz-Gerald has already identified the single-biggest ripple effect. And he gave us a "back-door" way to profit from it.
Keith, you see, believes Alibaba will use the IPO proceeds to buy out Yahoo! Inc. (NasdaqGS:YHOO). So he's telling folks to buy Yahoo! now.
"BP, this IPO, when it hits, will give Alibaba a ginormous cash war chest – as well as tremendous leverage in global markets," he told me this week. "It's only logical that the company goes hunting for acquisitions that boost customer penetration and revenue at the same time. And I just have to believe that Alibaba's 'to do' list includes the line item: 'Take out Yahoo!' It just makes too much sense, BP. But even if the deal doesn't materialize, investors can benefit just by owning Yahoo! You see, Yahoo owns 24% of Alibaba. Pre-IPO, this is clearly the best way to get a slice of the Chinese Internet giant before it debuts. Like a state secret that's not really a secret, the Alibaba IPO figures to be one of the biggest IPOs in recent years and perhaps even one of the largest ever. So buying Yahoo! is kind of a 'back-door' way to play this mondo stock offering."
Cheap – Really Cheap
As we mentioned in a report last week, Keith already told his Strike Force subscribers to buy Yahoo! shares at prices below $36 a share. And he thinks that's actually a bargain.
"BP, analysts estimate that the 'Alibaba Effect' on Yahoo! is between $29 and $30 a share," Keith told me. "I actually believe that's low. Between Yahoo! Japan, which still outranks Google in terms of local search there, and Alibaba itself, the value is much, much higher. My calculations tell me that $50 may be more likely."
In other words, Keith is saying that – if you add in the 'Alibaba Effect' – Yahoo's true value, in the long run, is more like $86 a share, 153% above where the stock was trading late yesterday.
It'll take a bit for Yahoo! to achieve that full, "fair" value – unless there's a buyout by Alibaba, which is a lot more likely than the "experts" would have us believe.
"Yahoo! has a lot of things that Alibaba can use," Keith said. "There's access to the U.S. market. There's a pre-existing regulatory structure, and regulatory relationships, here, which has a lot of value. And there are businesses and brands that can be better utilized."
But Yahoo's most-valuable asset is the roster of U.S. users – "names" in tech-sector parlance – that the company has right now.
Recently, in his "State of the Art" column in The New York Times, writer Farhad Manjoo said that the battle for names could escalate among global Internet players following the Alibaba IPO.
For some time now, Manjoo wrote, U.S. and Chinese technology companies have focused on global domination, but have kind of "ignored" each other on a company to company basis. But the Alibaba IPO could signal a shift, "the end of an era of mutually beneficial provincialism." And that could ignite a global battle for users.
If that happens, Keith's prediction that Alibaba could make a bid for Yahoo – using the U.S. company as a way to grab a big group of American users in one fell swoop – makes one heck of a lot of sense.
"The way I see it, BP, Yahoo is clearly not worth much on its own," Keith said. "Yahoo! CEO Marissa Mayer can't seem to get traction despite some heavy-duty talent recruitment and attempts to develop original content à la Netflix Inc. (Nasdaq: NFLX) and HBO. Yahoo's share of digital ad media has fallen to under 6%. Yahoo hasn't got a meaningful presence in mobile markets, where advertising was up 81% in 2013 according to ZenithOptimedia. That's why the company is cheaper, on a valuation basis, than its individual parts might warrant."
As part of the IPO, Yahoo is selling 208 million shares, or about 40% percent of its Alibaba stake – a move that could generate a windfall of more than $10 billion. That would more than double Yahoo's cash war chest.
As BusinessWeek.com reported this week, Mayer is nearly two years "into a turnaround effort that's failed to produce much sales or profit growth, [meaning she must be very careful as she decides] how to deploy the capital. She could return cash to shareholders through a buyback or dividend, or focus on expansion through acquisitions. Choosing wisely is critical, as the payout offers Mayer her best shot yet at narrowing the ever-widening gap between Yahoo and Web rivals Google Inc. and Facebook Inc."
BGC Partners analyst Colin Gillis says the Alibaba cash gives Mayer "the firepower to go buy companies. What she does with the cash will define how effective of a manager she is."
Underscoring Keith's point that Yahoo's current businesses lack much value, an evaluation conducted by SunTrust Robinson Humphrey analyst Robert Peck concluded that the Alibaba stake is actually the most valuable part of the company. In fact, it accounts for more than half the value of Yahoo's share price. Less than $7 of it is tied to Yahoo's main business, he said in a recent research note to investors.
Peck has a $40 price target on Yahoo.
The "Post-IPO" Landscape
Clearly, the IPO is a "pivot point" that will set some changes in motion.
"If I were Alibaba Chairman Jack Ma, I would use the IPO to take Yahoo! out of the picture," Keith said. "Then I would immediately lateral applicable IP – intellectual property – to my Chinese customer base to execute a powerful 'end run' around my Chinese competitors, Tencent and Baidu. Shortly thereafter, I would flood the pipe in the other direction, using Yahoo's know-how about the well-developed U.S. ecommerce market to jump-start changes in China. Doing this will let Alibaba leapfrog its home-market rivals, giving the Yahoo acquisition a value that far exceeds its measureable asset value."
Alibaba is already doing this in the intellectual property arena – taking U.S. technology and applying it to the Chinese market. Alibaba has already purchased more than 100 U.S. patents in everything from payment processing to data search. It owns key stakes in companies like TangoMe, a messaging service, and Lyft, a ride-sharing program now in some 60-odd cities.
The China retail/e-commerce market is developing along new lines.
"Most of the Chinese shops have no physical selling model," Keith said. "By contrast, the U.S. online experience is built around online retailing that is an outgrowth of brick-and-mortar retailers. Alibaba merchants can sell more in a single day than all the e-commerce sites in the United States together, according to the Milken Institute.
And the "scale" – the size – is staggering.
"Alibaba accounts for 70% of China's package deliveries and is worth nearly 2% of China's GDP all by itself," Keith told me. "Wal-Mart, by comparison, is only 0.03% here in the states, according to Bloomberg. And while the entire U.S. population – men, women and children – totals 330 million, the online population in China will hit 850 million by the end of this year."
Alibaba is already a heavyweight in that realm.
Two Alibaba properties, Taobao and Tmall.com, account for more than 90% of Chinese consumer-to-consumer online shopping and 51.1% of business-to-consumer retail sales, according to Observer Solutions.
"As Chinese consumers increasingly flood global markets, they will continue to change things and drive revenues in ways that Westerners cannot envision," said Keith, who spends parts of each year in Asia. "They will make sales happen that would otherwise not and, in the process, stimulate consumption that doesn't yet exist. This is not inconsequential, given that the Chinese government forecasts online sales of $2.9 trillion by year-end, an increase of 80% year over year."
By adding in the Yahoo technology and U.S. market know-how, Alibaba can "amp up" its China business. And it will also get a nice beachhead in the well-developed and lucrative U.S. market.
That's why an Alibaba buyout of Yahoo makes so much sense, Keith said.
Let's look at the "investment case" he distributed to his Strike Force subscribers this week.
The Case for Profits
"As I told my folks, BP, if you think about the bigger picture here, all of this makes sense," he explained. In fact, it's got all the makings of a classic takeover."
Indeed, the buyout Keith predicts makes so much sense because:
Yahoo has done the hard work and spent the resources to do it. Alibaba will have very deep pockets and could easily leverage its experience without a lot of effort to build what could easily be bought… cheaper.
Alibaba is clearly on the path to global leadership. Long ignored by Google, Amazon, and Facebook, for example, it would use Yahoo to leapfrog the competition. If valuations on the IPO are what we are predicting, the company could buy ten Yahoos and still have change.
Following the IPO, both Yahoo and Alibaba will be flush with cash that can be used to immediately, cheaply, and efficiently clean up their balance sheets. Not that they are messy to date, but the ownership structures could be simplified.
A Yahoo acquisition would build on geographic diversity that's an already proven strength of both companies.
In a classic play, buying Yahoo could create higher margins for both companies once the China-based business is factored into Yahoo's model, especially since Yahoo's model by itself doesn't no longer has the reach it needs to work.
At the end of the day, this is a truly speculative investment for sure. There's no assurance that a buyout will materialize. And there's a chance that Mayer & Co. will squander the windfall that comes to Yahoo thanks to the sale of 40% of its Alibaba stake.
But the reality is that the pressure is on Mayer, and the post-IPO Yahoo will have the chance to enhance shareholder value in a way that it can't right now. And that means that, even without a buyout, Yahoo's shares represent an intriguing profit play. If nothing else, Yahoo is a "backdoor" way to play the Alibaba IPO.
"Normally, an IPO situation means you pay more for less," Keith said. "But in this case, it's the reverse. In fact, I think we're paying less and clearly have the potential to get a whole lot more."
Stop back tomorrow.
[Editor's Note: In his note to his Strike Force folks on Wednesday, Keith recommended the purchase of Yahoo! Inc. (NasdaqGS: YHOO)shares at prices under $36 a share (it closed at $33.98 yesterday).]
Related Reports: