Now that you know how to build a balanced portfolio, it's time to determine which stocks you'll buy.
Fortunately, there are a number of free tools at your disposal that you can use to build the right portfolio for you.
The first, is stock screeners…
A stock screener lets you filter through hundreds of stocks based on certain parameters you set, like market cap, share price, sector, P/E ratio… and many, many more.
They're excellent tools to use when you become more comfortable and familiar with what you're looking for in a stock. And it can save you a lot of time.
There are dozens of free screening tools you can find online. Here's an example of one you can use for free on finviz.com: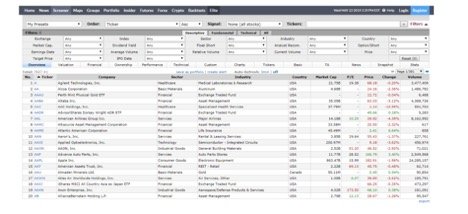 They'll all look different, but they'll all follow the same idea. You can just select the metric you want to use and input the value you want to screen for.
All you have to do is hit the "Run Screen" button, and you'll see every stock that fits your criteria.
You can add even more criteria to your screen to narrow down the field even more.
Of course, finding excellent stocks to buy is something we've also simplified for you, so that you just need to look at one number…
The Money Morning Stock VQScore™ – derived from our proprietary valuation system – tells you which stocks are priced to give you the biggest returns on the market.
Here's how it works: The VQScore tracks the 1,500 most profitable companies on the market every day. Then it takes the most useful valuation strategies available and boils them down into one simple number.
Knowing that one number will tell you whether to buy, sell, or hold a stock.
Specifically, the VQScore formula values a stock's earnings power and whether EPS is accelerating or decelerating. Then, it compares that to the momentum of recent demand for the company's shares and whether that's increasing or decreasing.
The higher a stock's score, the better. A VQScore of 4.00 or higher puts a stock in the "Buy Zone." These are the stocks priced to make you money.
In short, the VQScore gives you an edge over Wall Street.
You'll find the most valuable stocks with the most profit potential while everyone else follows the herd into more expensive shares with less upside potential.
The VQScore has an astonishing track record.
If you bought our top-rated stocks in May 2013, you would have made some serious cash.
In May 2013, the VQScore tool identified 48 triple-digit winners, including a staggering 2,573% gainer in TAL Education Group (NYSE: TAL). You read that right. If you bought TAL in May 2013 when it had our highest VQScore, you'd be up 2,573% today.
In fact, if you know of a hedge fund, Wall Street bank, or even your own financial advisor who matched this record, we'd love to hear about it.
ABIOMED Inc. (NASDAQ: ABMD) is another stock that flashed our highest VQScore in May of 2013, when it traded for just $23.33 a share. In May 2019, ABMD traded for $380.51 a share, a whopping 1,497% gain in six years.
And this is just the VQScore's track record for its top-rated stocks (a score of 4 or better) in May 2013. It's produced even more winners since then.
We ran the data more recently – May 2017 – and the results were just as impressive.
Solaredge Technologies Inc. (NASDAQ: SEDG) surged 267% over the last year when it held a VQScore of 4. SEDG was just one of 52 double-digit gainers found in our VQScore track record from May 2017 alone.
Again, those are just stocks with our highest scores in May 2017. There are even more double-digit gainers throughout the rest of the year. We don't know if that's the best track record on Wall Street, but if there's a better one, we can't find it.