Perhaps the biggest myth in investing today is the notion of the "diversified portfolio."
Make no mistake, having a balance of investments is important. But what you've probably heard about "diversification" could be like poison to your portfolio.  
The experts constantly preach that a "diversified portfolio" will help limit your downside. The idea is that by investing in many stocks across all industries and asset classes you'll be protected if something happens to one stock or sector. In other words, by spreading your money throughout the market, you'll be protecting your money if an industry underperforms.
But that strategy completely misses the mark.
Instead of limiting your risk, you end up just limiting your profits…
Sure, if you invest in every single industry, one underperforming sector will be mitigated by the outperforming sector. But the opposite is also true. Your gains from your winning stocks will be completely wiped out by the losses of your losing stocks (or sectors).
You've limited your downside and your upside. What you're left with is a portfolio that basically tracks the broader markets. As we discussed before, this strategy comes with risks of its own, including not being able to meet your retirement goals.
That's why we recommend a different way of diversifying your investments.
Instead of diversifying your portfolio by trying to replicate the overall market, we recommend diversifying between stability, growth, and extreme upside. This method still limits your downside, but it also maximizes your upside potential.
The stable companies offer you protection against downsides. Remember the Unstoppable Trends we talked about in Module 2? Well-run companies plugged into these trends will help form the most stable part of your portfolio.
Just look at one of our favorite stocks plugged into the population growth trend, Becton Dickinson & Co. (NYSE: BD). On the surface, this medical device company might not seem like the most exciting investment. But when you consider that we need more healthcare services as we age, and the United States has an aging population, you can see the potential for this company to weather any storm.
Plus, this isn't some startup trying to establish itself. The company has been raking in billions in profits over the last decade, which helps it fund a reliable 1.2% dividend yield. It's no surprise it's done better than the broader market over the last decade.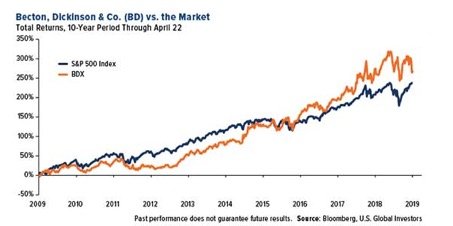 Stable stocks like Becton Dickinson can help form the backbone of your portfolio. But we still want to diversify. That means looking for growth stocks too.
These are companies in some of the hottest sectors that are constantly reinvesting in themselves to stay on top of the market. That means they're less likely to pay a dividend and their shares can be more volatile in the short-term, but their upside potential makes it all worthwhile.
Amazon.com Inc. (NASDAQ: AMZN) is the perfect example of a growth stock. Amazon doesn't offer a dividend, but the company has used the cash to grow. No longer just an online bookseller, Amazon now offers original shows and movies through its streaming service, a digital voice assistant, and even grocery deliveries through Whole Foods.
That's propelled shares of Amazon nearly 1,000% higher since just 2012.
But we can diversify even further. Now that you've got stable stocks and growth stocks in your portfolio, you can set aside a small amount to really swing for the fences. We're talking IPOs, startups (even before they go public), or breakout sectors like legal cannabis. These plays might carry the most risk, but they can also lead to life-changing windfalls when they work out.
Look no further than one of our favorite stocks from the cannabis sector. If you bought into in in 2016, you'd have seen over 2,000% peak gains. Of course, not every one of these plays works out, which is why you don't build your portfolio around them.  But setting aside a small part of your portfolio for these opportunities is the difference between an average portfolio and a great one.
By diversifying your portfolio between stable stocks, growth stocks, and extreme upside stocks you can dramatically increase your profitability while keeping your risk in check. That gives you the upside potential you'll need to hit your retirement goals without being weighed down by owning unreliable companies in weak sectors as other diversification strategies would have you do.
The next lesson will show you how all of these stocks work together in our signature 50-40-10 investment strategy and diversification model…