You've set up your account. Now it's time to buy your first stocks (and be ready to sell them).
Once you've figured out what stock you want to buy (and we'll go over how to find them in the next Module), you need to identify the proper ticker symbol. Usually this is pretty straightforward, but be careful. You want to make sure you're getting the shares you want.
For example, the ticker symbol COKE refers to Coca-Cola Consolidated Inc., which is the bottling company for Coca-Cola. It's not The Coca-Cola Co., the company you're likely thinking of. That ticker symbol is KO.
And in April 2019, a company named Zoom Video Communications went public with the ticker symbol ZM. But thousands of investors accidentally bought stock in Zoom Technologies, a completely different company with the ticker ZOOM.
In other cases, companies have more than one ticker symbol because their shares have different voting rights.
GOOG and GOOGL are both shares of Alphabet Inc. But the shorter ticker symbol GOOG is for "Class C" shares, which come with no voting rights in the company. You may not care about that, but you should know which kind of shares are best for you.
Once you know you have the ticker you want, you can log in to your brokerage account and look up a quote for the stock. That will give you some basic information, which typically includes the following:
Last Price: The price per share of the most recent transaction involving that stock. For a high-volume, heavily traded stock that's not moving quickly that day, this will likely be close to the price you pay if you buy shortly after looking up the stock. Most accounts will also show you the day's price range for that stock, and how much the price has moved since the opening bell. 
Bid and Ask: The bid is the highest price per share traders are currently willing to pay for that stock, and the ask is the lowest price traders are willing to accept for it. The difference represents the profit for the broker who handles the transaction. For most well-known stocks, the difference is typically a tiny fraction of the share price. When the ask is significantly higher than the bid, it means shares of that stock aren't changing hands easily.
Market Cap: That's the total value of the company, based on its share price multiplied by the number of shares outstanding. Small-cap stocks generally have market caps below $2 billion. Mid caps can be up to $10 billion, and large caps are anything bigger than that. Typically, small-cap stocks have more price volatility than others. They are usually newer companies than the well-established large caps. They are often in a growth phase where their prices can take off quickly, but also drop just as fast.
Volume: This is the number of shares trading hands, presented either as today's total or as average daily volume for a recent time period. The higher the volume, the more people are buying and selling the stock. That will be especially important when it's time for you to sell a stock and need someone to buy it from you. A large-cap stock like Apple has a daily volume of more than 28 million shares. You'll never have trouble getting in and out of a stock with that much volume. But small- and micro-cap stocks' volume is much smaller. They can see averages in the thousands, and some days have no trading volume at all. That can make it extremely difficult to sell your position.
When you're ready, select the "buy" option on your brokerage website.
If you don't already know how many shares you want, just take the amount you want to spend and divide by the share price. You're not likely to get the exact price that the stock last sold for. And you have to account for your broker's commission fee (often $5 to $10 per trade).
But you have some control over how much you pay by the price/order type you select. Here are some price/order types you might see, depending on the broker you use: 
A market order executes the trade at whatever price the shares are selling for at that moment. If you're buying during trading hours and it's a high-volume stock, this should be pretty close to the last price, and somewhere between the current bid and ask price. But keep in mind the market moves fast sometimes – you are not guaranteed to pay the price you see when you hit "buy."
A market on close order will execute the trade at a price that's as close as possible to the price where the stock closes on the day you enter the trade.
A limitorder lets you set your own custom ceiling on the share price. You can set the limit anywhere you want. This lets you make sure you don't pay more than you're comfortable with. A limit well above the current price means your trade will almost certainly be executed right away. A limit below the current price won't be executed until the share price drops to that level.
A stop on quote order triggers a trade when the stock reaches a certain price. Once the price hits the price you requested, it turns into a market order to fill.
A stop limit on quote order is also triggered when the stock hits a price you specify, and then it's a limit order to fill only at or below the limit price you request.
You might also see a selection that involves a trailing stop, which we cover in the next lesson. You can add a trailing stop after you buy the stock.
You can specify whether your order is a day order(it will be canceled if it hasn't been executed at the end of the trading day) or good till canceled (exactly what it sounds like).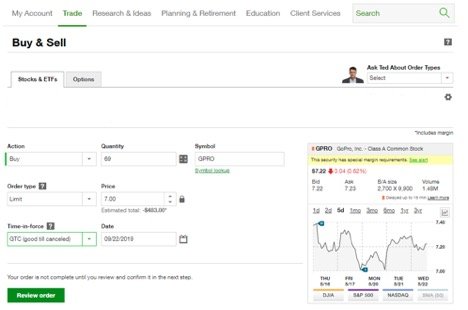 Review your request to make sure you have the right selections and you won't spend more than you're comfortable with. Hit "place order" or your brokerage site's equivalent – and then congrats, you're a shareholder!
You take the same steps when you're ready to sell a stock. Specify the ticker, how many shares you want to sell, market order or limit order (at a price lower than where the stock is currently trading), and day order or good till canceled (GTC).
If this seems complicated, you can always opt for a traditional broker, who can place these orders for you (for a fee). But you'll probably see that it's easier than it looks once you get going on your own.
And if you're feeling confused about how limit orders work, don't worry. We've got you covered. We'll go deeper into limit orders and more advanced aspects of buying and selling (which are still easy to set up!) in the next lesson.