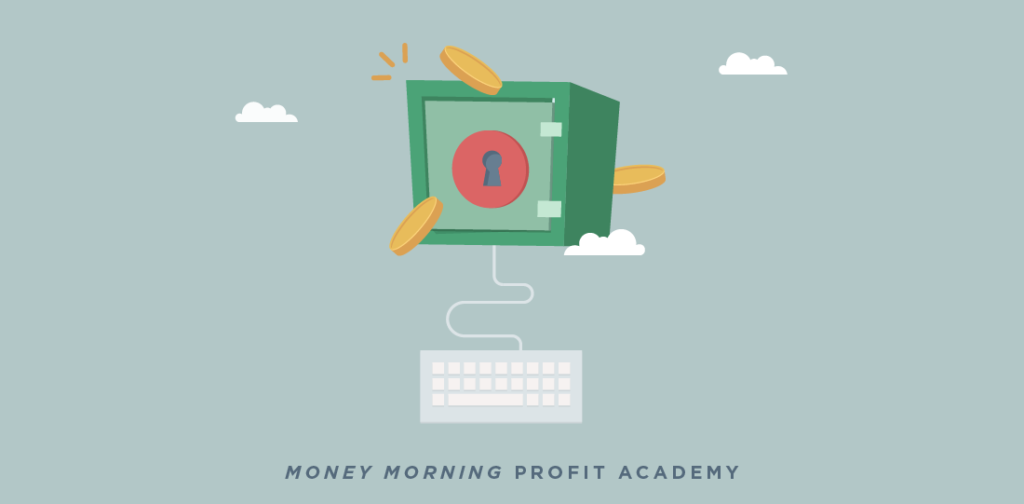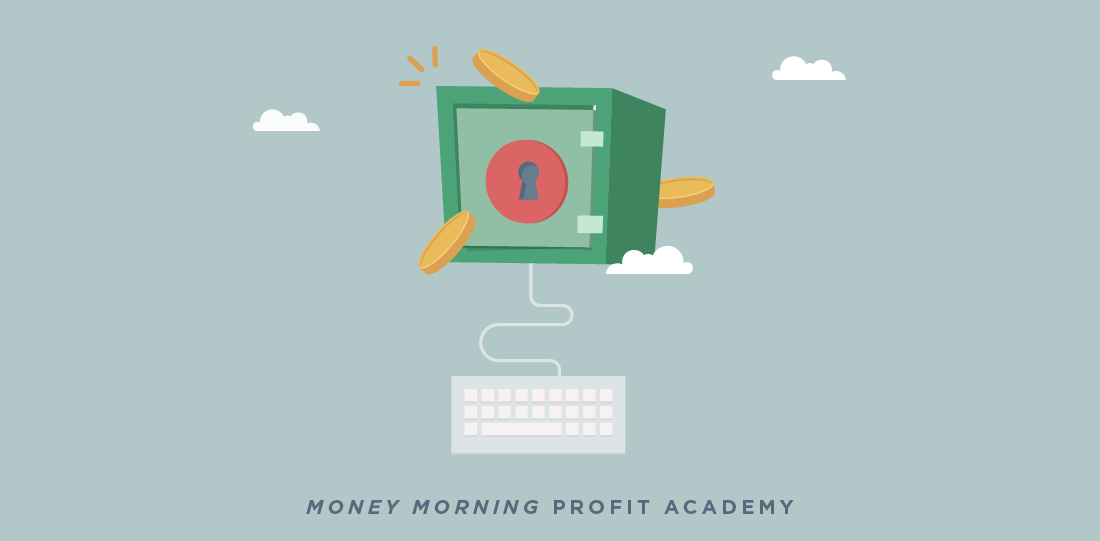 The first step in learning how to invest is knowing how to open a brokerage account.
This course shows you how to choose the right account for you and how you can open one today.
Once you open an account, you'll need to know how to use it to buy and sell stocks. But don't worry — we've got you covered there, too.
Not only will you learn how to open a brokerage account with step-by-step instructions, but we'll show you how to use your brokerage's tools to minimize risk and maximize gains.
There are dozens of companies that can provide you with brokerage services and finding the right one to suit your needs may seem daunting. We've made it easy to figure out which one you need. You'll be able to set up your account and begin buying stocks in as fast as 30 minutes. Let's get started.
What Is a Brokerage Account?
Brokerage accounts are similar to normal bank accounts with the exception that they offer the account holder access to the stock market and other investments. With a brokerage account, you can buy and sell a variety of investment types such as stocks, bonds, mutual funds, and more.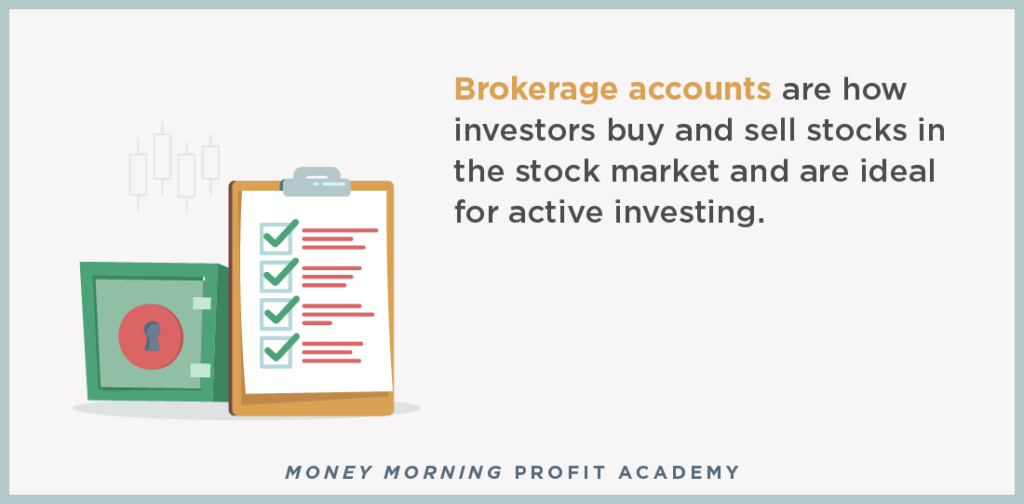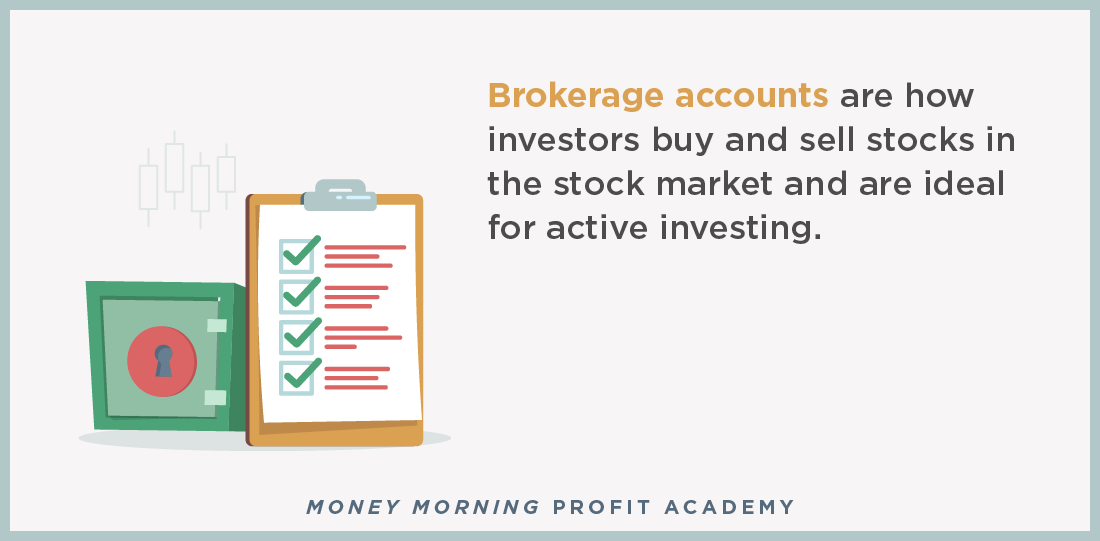 Also known as taxable brokerage accounts, contributed funds are later taxed as capital gain. Unlike passive investment accounts, brokerage accounts offer more flexibility for the account holder because they're active investment accounts.
Brokerage Accounts vs. Retirement Plans
When comparing brokerage accounts vs. retirement plans, it's important to note the advantages of active investing vs. passive investing.
With a retirement plan such as a traditional IRA or even a Roth IRA, account holders are usually limited to a selection of investment options as well as restrictions regarding when you can withdraw your funds.
A traditional brokerage account operates with much more freedom allowing the account holder to contribute as much money as they'd like with no limits. While these accounts don't offer the same tax advantages as retirement plans, they're much more helpful for financial needs that can't wait until retirement.
For example, if you need to grow your wealth to remodel your home or are planning an expensive vacation, then a tax-advantaged retirement account won't help. You'll need an account that lets you withdraw your money without paying a penalty — and that's a traditional brokerage account.
How Do Brokerage Accounts Work?
To begin understanding how to open a brokerage account, you'll need to familiarize yourself with a few brokerages.
There are several licensed brokerages to consider such as limited-service brokerages or full-service brokerages that can help you open your brokerage account. Both have advantages depending on your financial goals and needs.
Once you've selected a brokerage, you can likely open your brokerage account online or even over the phone. Once your account is open, you're able to start moving funds into your account from other bank accounts or by mailing a check. While you don't always need to fund your account immediately upon opening it, you will need funds in the account in order to start investing.
Whatever funds or investments exist in the account are owned by you, not your broker. Along with showing you how to open your brokerage account, the broker you hired is also there to help facilitate any trades you're interested in making.
Cash vs. Margin Brokerage Accounts
One of the very first questions you'll need to answer upon opening your brokerage account is whether you'd like a cash or a margin brokerage account. Both account types are fine choices, but they operate in distinct ways.
With a cash brokerage account, you can only purchase securities up to the amount of money that exists in your account. In other words, you can imagine your cash account is a debit card. You can't purchase more than you have the money to pay for, and if you'd like to purchase something more costly than your account balance, you'll need to deposit more money first.
On the other hand, margin brokerage accounts operate similarly to a line of credit. With this specific account type, an investor borrows money from their broker to purchase stocks. This is only available to investors who have demonstrated their ability to repay debts. You'll likely need to provide your broker with more information on your net worth and financial history to open this type of account.
If you just want to start off by simply buying and selling stocks, you can stick with the standard equity account and revisit other accounts later.
Types of Trades You Can Make
When you're ready to trade, there are a variety of types of trades you can make. Based on the account type you have you can opt to trade any of the following:
Stocks
Bonds
Mutual funds
ETFs
Other securities
While you're free to begin trading whatever you'd like, opening your first brokerage account is the perfect opportunity to buy your first stock. Starting with stock trading is a great way to start investing and offers the potential for good returns.
Depending on the market performance and other factors, becoming a shareholder in a company can be extremely lucrative. Plus, if a company is performing significantly well, you may even be awarded dividends — all excellent outcomes for your investment egg!
What Brokerage Account Should I Use?
To help you with broker selections, we've listed a few of the firms with the lowest account minimums and commission fees, without compromising on quality customer service. Listed below are the top discount brokers:
  Broker
  Contact  
  Types of Trades
  Minimums to Open
      Pricing
  Robinhood  
  robinhood.com   Online Only    
  Stocks, ETFs, options, cryptocurrencies  
  None[DP1] 
  None
  TradeStation  
  tradestation.com
1.800.328.1982
  Stocks, ETFs, options, futures, mutual funds, bonds
  $500.00
  Stocks: $5.00, options: $5.00 + $0.50 per contract.  
  Charles Schwab  
  schwab.com
1.800.435.4000
  Mutual funds, ETFs, CDs/money market, domestic and international stocks, bonds, options, futures
  $1,000.00
  Stocks & ETFs: $4.95 + $5.00-$25.00 service charge. Options: $4.95 + $0.65 per contract + $5.00 service charge.  
  Fidelity  
  fidelity.com
1.800.343.3548
  Mutual funds, IRAs, stocks, bonds, ETFs, and options
  $0, or $4.95 for options
  All online U.S. equity trades: $4.95. Options: $4.95 per trade + $0.65 per contract.  
  TD Ameritrade  
  tdameritrade.com
1.800.454.9272
  Stocks, options, mutual funds, and futures
  $0, or $2,000.00 for Margin or option privileges
  Stocks and ETFs: $6.95. Options:
$6.95 + $0.75/contract.  
Disclaimer: Neither Money Morning nor Money Map Press is a broker, dealer, or licensed investment advisor. The author should not be considered as permitted to engage in rendering personalized investment, legal, or other professional advice as an agent of Money Map Press. Money Map Press does not receive any compensation for these services. Additionally, any individual services rendered to Money Map Press by the companies listed are considered completely separate from and outside the scope of services offered by Money Map Press. Any contact and resulting relationship is strictly between you and the company.
The brokers we've chosen here are called "discount brokers" because they are less expensive than full-service brokers. Full-service brokers can sometimes charge hundreds of dollars for their services. They can also charge you an annual percentage of your portfolio—so the more you make, the more you pay.
You should use whichever brokerage platform is right for you. The discount brokers listed above might meet your investment needs for a fraction of the full-service cost. If you prefer full service, then go that route.
Opening Your First Brokerage Account (Step-by-Step)
While opening your first brokerage account can seem daunting, it's actually a fairly simple process. As mentioned, many accounts can be opened online and with minimal guesswork. To get started, follow these four simple steps to opening an account.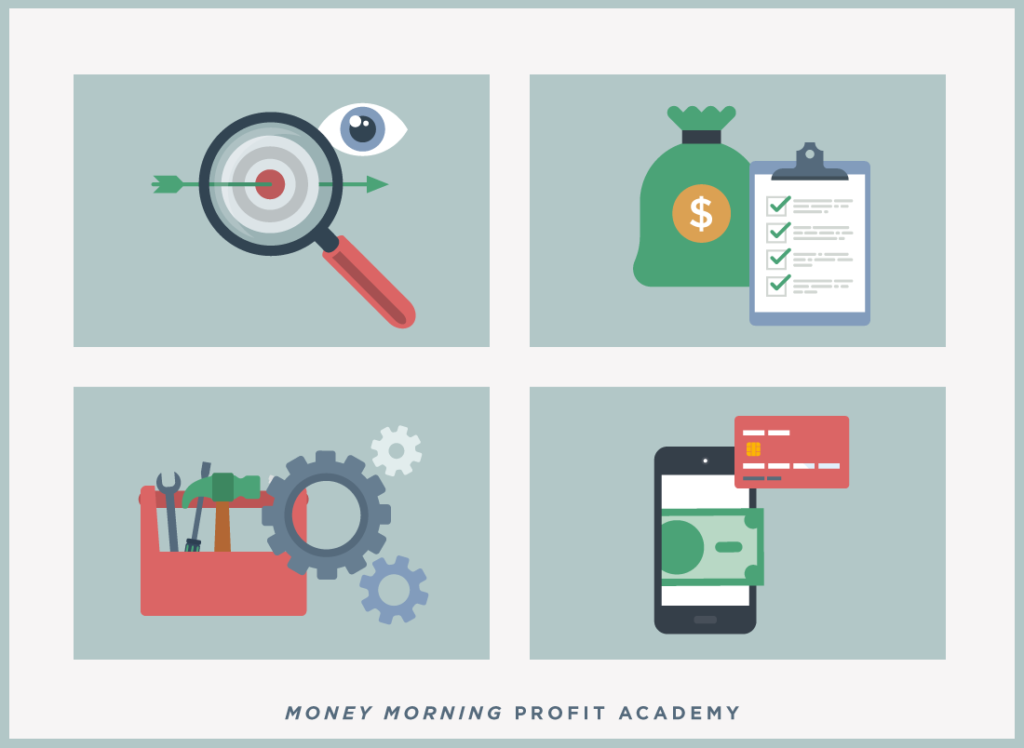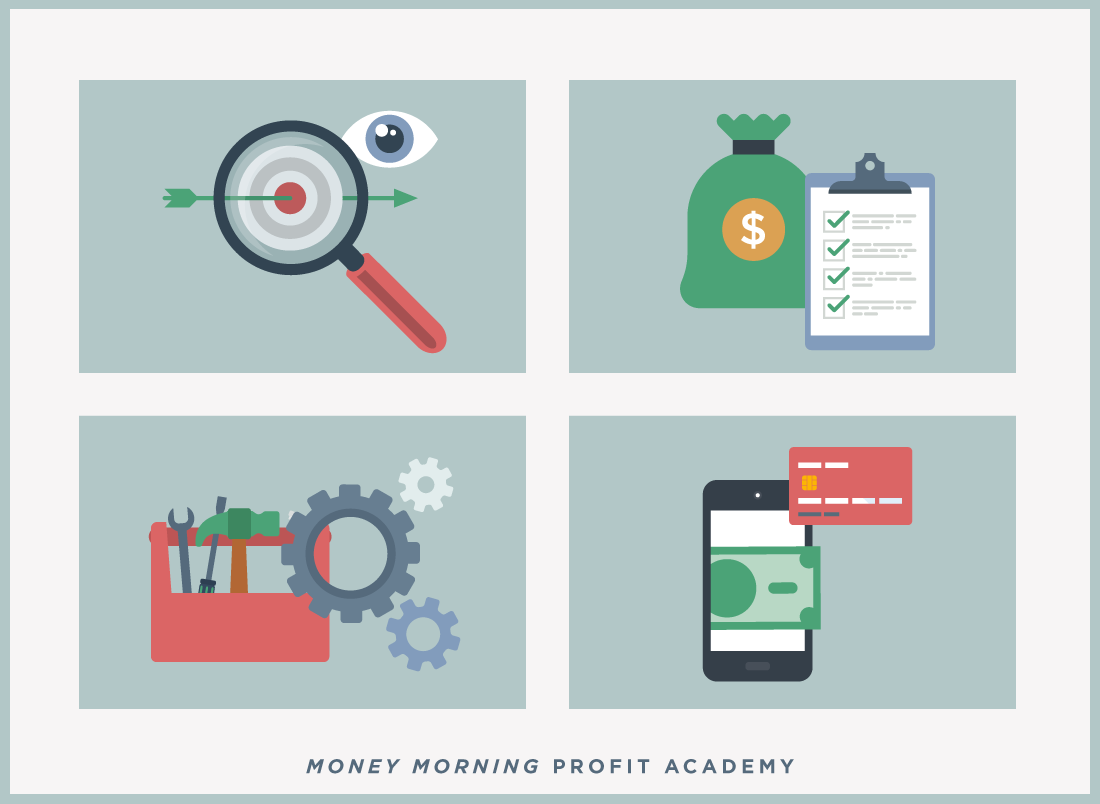 1. Assess Your Financial Goals and Risk Tolerance
As you begin the initial steps of opening your brokerage account, you'll first want to define your financial goals and consider how much risk you're willing to take on. Based on what you're comfortable with and where you see your future self, a robo-advisor or a managed brokerage account might be the best option.
With a robo-advisor, your investment decisions are largely left up to computer calculations. After entering your preferred risk levels and other information, a computer runs its algorithms and manages your investments and trades on your behalf.
On the contrary, a managed brokerage account involves a more human touch and the expertise of a licensed broker. With this option, you'll directly consult with your broker and he or she will personally manage your account, advising you on investment decisions.
Both robo-advisors and managed brokerage accounts are great options but be cautious of the level of risk you're willing to take on. Some brokerage types are better suited for beginners while others are more advanced, but the choice is ultimately yours.
2. Consider Costs and Value
Depending on whether you opt for a real-life broker or a convenient robo-advisor, you'll need to consider the costs and value associated with each. Of course, every advisor has their own unique fees, but you can generally expect to encounter the following costs:
Commissions. Fees that are paid to the broker after any trade. Commission fees vary by each broker.
Account minimums. The minimum amount of funds that must be in your brokerage account at the time of opening the account. Account minimums vary and typically range between $0 - $2,000.
Brokerage fees. An umbrella term for any other fees that you'll incur when working with a broker. This can include costs such as an advisory fee, account maintenance fee, an annual percentage of your portfolio, and more. These fees are specific to each broker. Along with these costs, the level of customer service you receive can also vary by broker. Before making any final decisions, do your research. It's just as possible to pay less for excellent service as well as paying a higher cost for better value.
3. Preparing to Set up Your Account
Once you decide on your broker, you'll need to set up your account. Most brokers allow you to set up an account over the phone or on their website, whichever you're more comfortable with. During the application process your broker will ask you for any of the following information:
Name
SSN or taxpayer-identification number, if applicable
Address
Phone number
Email address
Date of birth
Annual income
Approximate net worth
Employment status
The information you provide will help your broker open your account and get a better understanding of your investment goals.
4. Funding Your New Brokerage Account
The last step in learning how to open a brokerage account is funding your newly-set-up account. To get started, simply link your brokerage account to an existing checking or savings bank account – whichever you prefer.
With your account number and routing information, you can tether the two accounts together, and transfer or deposit funds directly into your new brokerage account. Once you have funds in your account, you're all set up for trading!
Getting Ready to Trade
With your brokerage account completely set up and funded with money, you're ready to begin learning the ins and outs of trading. Your next step in investment education is diving deeper into the world of stocks and learning how to navigate the trading process. Ready to learn more? Visit our next lesson to get the details on how to buy and sell stocks.