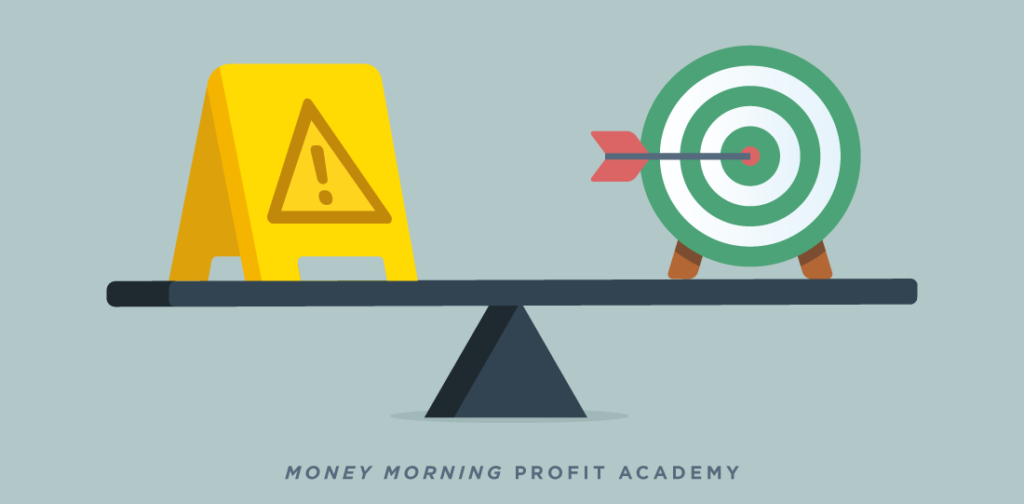 Learning how to invest successfully is more than just crunching numbers and choosing the right stocks. There are many factors that should go into your decision making – some of which you may have yet to consider.
Of course, you want to feel good about the investing decisions you're making. What stocks seem like they're performing well? How much money could you make if you purchase a couple more shares of your best performing stock? What financial goals can you accomplish through your investing efforts?
While those questions are great to consider, you should also want to be mindful of potential risks. For example, "What if this amazing stock plummets?" "Do I have savings in the event markets change?" "How much money can I afford to lose?"
Smart investing considers all of these questions so that you can make wise decisions about your financial future.
To help you make smart decisions, we'll dig deeper into how to define your investing goals and how to identify potential investing risks. After all, dabbling in the stock market is a careful balance between the two!
What Are Investing Goals?
In terms of the stock market, investing goals are those you set for yourself to achieve specific financial goals. There are many goals investors consider, but some of the most common examples include saving for retirement, building a nest egg for a special vacation, saving for college, or simply building a solid savings all that life brings.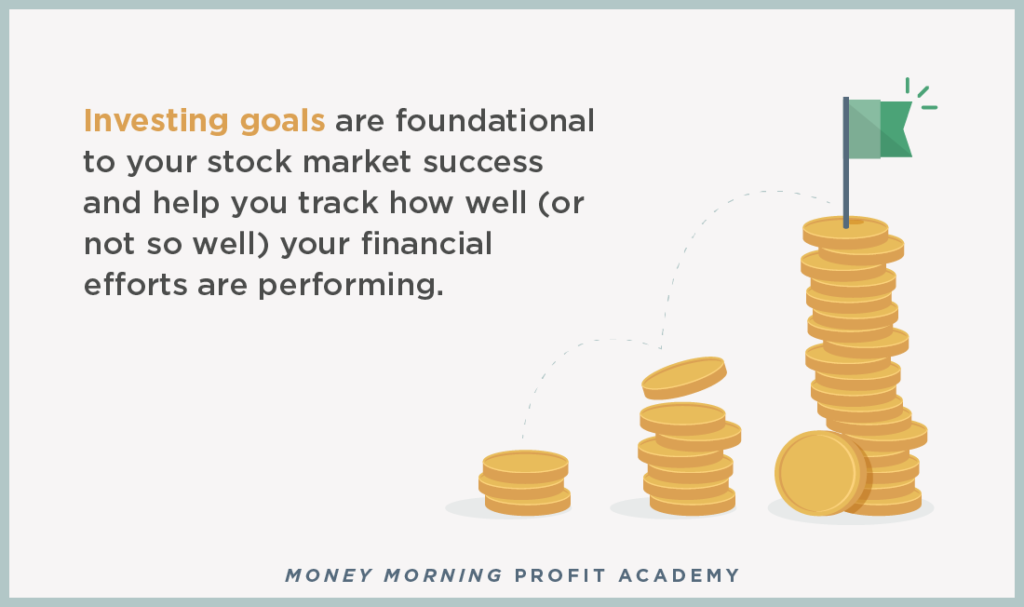 Goals are an important part of your overall investing strategy because these targets motivate you to take special care with the financial choices you make. They also help you track exactly how well – or not so well – your efforts are going.
Whether you have a lofty end-goal in mind or are simply working towards easily attainable benchmarks, investing goals are foundational to your stock market success.
How to Set Your Investing Goals
Now that you understand the importance of defining your investing objectives, it's time to get down to business and choose goals that will work for your unique financial situation. But, before you're able to define any specific goals, you might find yourself having trouble narrowing down your ultimate hopes and wishes – and that's okay.
Setting goals will likely lead you to ask questions about what you need the money or and when. Things like do you need it to purchase a car or a home in the near future, or for use later in life? Your reasons are strictly up to you and no matter how ambitious or conservative they are, you can begin to map them out with the following tips.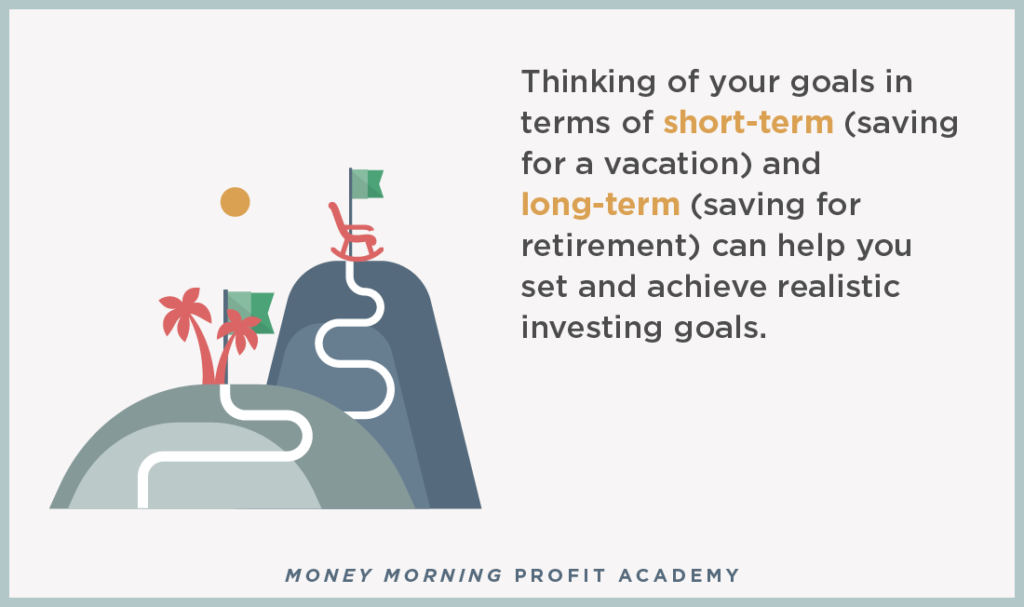 Setting Short-Term Goals
It may be helpful to think about your future hopes in the short term. For example, are there any investing goals you've been planning to accomplish that have been swept under the rug? Consider what you'd like to achieve financially in the next two to five years. Short-term goals you might want to plan on can include:
Saving up for a vacation
Paying off student loans or credit card debt
Tackling home renovations or improvements
Buying a new car
Whatever your short-term goals may be, jot them down on paper or in a working document. Physically building your list of goals will not only help you keep track of current goals, but may also help you develop new ones.
Once you have your list, you can begin to prioritize them in order of importance. Place your most-desired goals at the top of your list and continue with those that have lower priority.
Setting Long-Term Goals
Alternatively, you should also consider investment goals that are five or more years in the future. It's common for retirement or financial security to fall into this category, but remember that you have the power to make these goals your own.
Long-term accomplishments that you could add to your list include:
Saving for a comfortable retirement
Planning to pay for your children's college tuition
Purchasing a new home
Longer-term wishes often require more money, but setting them now gives you time to plan and work towards them. In fact, documenting what you'd like to achieve well in advance can help you manage your progress and make adjustments to your investing strategy with plenty of time to get back on track if you hit a rough patch.
Understand Investing Risks
After you've identified your goals for investing, you're ready to learn the in's and out's of investing risks. These risks can vary depending on the investments you choose, but knowing your risk tolerance will help you choose accordingly.
Managing your risk well can mean the difference between growing your wealth and losing money if markets change or you don't properly diversify.
Be Mindful of Temptation
You may be tempted to sell when stocks are plummeting during a recession, or to buy more as stocks surge through the stratosphere. After all, why stay in stocks if they are dropping in value and everyone else is selling? And if stocks keep busting through record highs, why not get in on the action?
While tempting, investors are wise to not suddenly react to the ups and downs of the market in the short term. Often, the best stocks to buy can fluctuate and any buying decisions you make should be carefully calculated beforehand.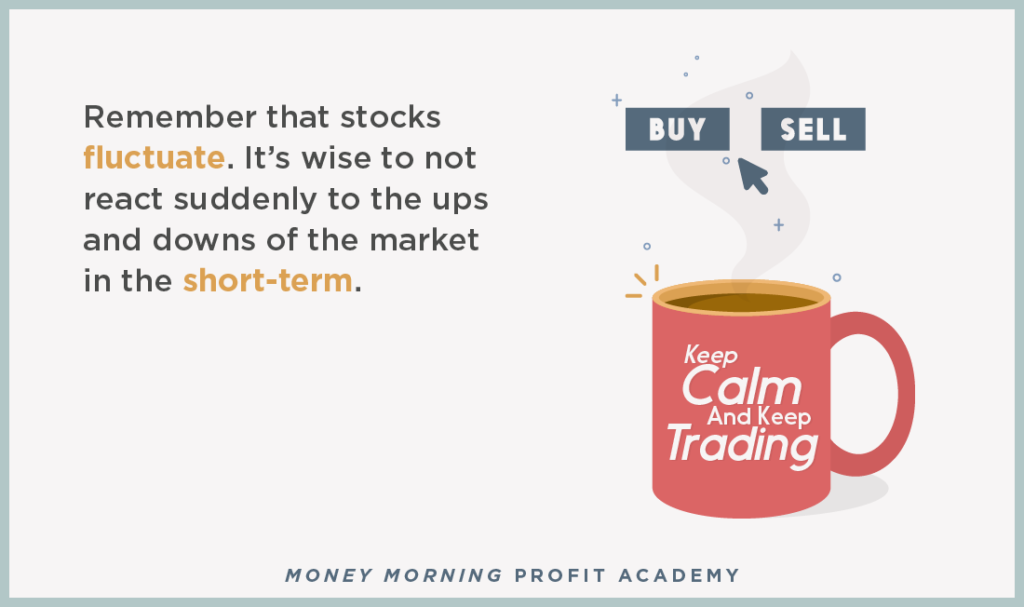 Market crashes can happen if investors panic and sell. Similarly, markets can form unsustainable bubbles because investors pour money into overvalued markets expecting them to rise forever.
Being aware of these potential occurrences can help you protect and grow your money over the long term. And the simplest way to do that is to set a clear goal, build a portfolio to meet it, and manage it dispassionately.
Strike a Balance Between Investing Goals and Investing Risks
Making successful investment decisions in the stock market is all about maintaining your goals and keeping your risk in mind. With these tips, you'll be well on your way to mastering the stock exchange! Plus, our additional Profit Academy courses are always here to help you build your skills as you dive deeper into your investment opportunities.