By RED ALERT EDITOR, Money Morning • February 14, 2018
Editor's note: A new kind of order is about to be imposed on the financial sectors… One that is controlled by Main Street instead of Wall Street. And nothing – not the biggest banks, not the government, not even the creator of Bitcoin – can stop it. No matter how much they'll want to. The fact is, whether you like it or not, cryptocurrencies are completely turning the investment world upside down. And those who act now stand to gain the most from this once-in-a-generation opportunity. Click here to learn more before it's too late.
---
Dear Red Alert Reader,
Cybercrime and security were key topics of discussion at the World Economic Forum (WEF) in Davos, Switzerland, this January. And our best cybersecurity stock for 2018 will directly benefit from increased focus on this industry.
Cybercrime is on the rise across the globe, and it impacts everyone. That includes governments, businesses, and individual consumers. Spending on cybersecurity to combat these crimes is expected to reach $1 trillion by 2021, according to estimates by Cybersecurity Ventures.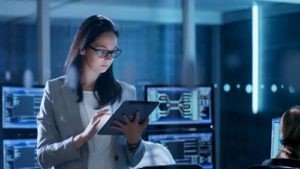 Companies with the most sophisticated and up-to-date cybersecurity systems will be able to deliver their shareholders the largest slice of that $1 trillion pie.
Here's how the top cybersecurity experts advised the Davos meeting attendees, plus the best cybersecurity stock to buy in 2018…
World Economic Forum Reports on 2018 Cybersecurity Threats
According to the WEF's Global Risks Report 2018, business leaders of developed countries perceive cyberattacks to be the top global risk.
According to the WEF report, the intensity of cybercrime is also expected to increase more than any other risk in 2018. These experts also spent the last 12 months identifying 14 policy areas where WEF recommends public-private collaboration.
Yahoo Finance spoke with several top cybersecurity experts and sought their opinions on what cybersecurity topics business and government leaders needed to focus on in 2018.
Steve Grobman, chief technology officer of McAfee, and Rik Ferguson, VP of Security Research at Trend Micro, said they would like to see more cooperation between governing bodies, such as the European Commission and the private sector.
Leo Taddeo, chief information security officer of Cyxtera and former New York Office FBI special agent in charge of special operations/cyber division, mirrors this sentiment with his belief that traditional defense is no longer sufficient. Governments must ally with the private sector to both identify threats and identify all potential vulnerabilities in a system.
The common theme here is that the public and private sectors must cooperate in order to successfully combat the growing threat of cybercrime.
And that's creating a profitable investing strategy for investors who know which private sector company will benefit the most from these partnerships.
While there are many excellent cybersecurity companies out there, the best cybersecurity stock to buy for 2018 has the potential to double your money over the next two years…
---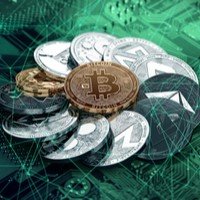 The New York Times reports: One cryptocurrency investor, "briefly became richer than Mark Zuckerberg."
(Here's our way to make YOUR cryptocurrency fortune…)
Sick of watching everyone else get rich with cryptocurrencies?
Click here to discover the little-known coin that will soon be BIGGER THAN BITCOIN… and how you could claim YOUR potential cryptocurrency fortune before it's too late.
---
The Best Cybersecurity Stock to Buy for 2018
Raytheon Co. (NYSE: RTN) is our pick for the best cybersecurity stock to buy in 2018.
Many investors are aware that Raytheon is one of the top military defense companies in the world, but the company's Forcepoint cybersecurity division is shaping up to be a key growth driver.
Between 2015 and 2016, Forcepoint grew its revenue from $328 million to $566 million, an increase of 72.56%. While this is still a small portion of Raytheon's $24 billion annual revenue, this division's growth is almost five times greater than the projected 15% growth rate for the cybersecurity sector through 2021.
And the fact is that the United States and the world at large are constantly under growing threat of cybercrime.
The first half of 2017 saw a 230% increase over 2016 in the number of data breaches. Major companies with millions of customers were breached like Equifax Inc. (NYSE: EFX), Microsoft Corp. (Nasdaq: MSFT), and Verizon Communications Inc. (NYSE: VZ).
Over the past five years, U.S. government agencies have also been breached. This includes the U.S. Voter Database and the U.S. Office of Personnel Management. Of these known breaches, more than 412 million Americans have been affected.
And all this is contributing to cybercrime damages, which are expected to reach $6 trillion annually by 2021.
Stock Talks with Bill Patalon: Hitch a Ride to the "Drone Revolution" with This Stock
Raytheon's Forcepoint is one of the few cybersecurity concerns that has the technology and backing of the U.S. government to address these issues on a large scale.
Last summer, Raytheon reaffirmed a $1 billion contract with the U.S. Department of Homeland Security to provide safeguards against data breaches for dozens of government agencies.
Raytheon's Forcepoint division was formed when the company acquired more than a dozen smaller cybersecurity companies over the past decade.
In February 2017, Forcepoint purchased Skyfence, which delivers cloud security to Forcepoint's clients. Other services Forcepoint provides include firewall applications, analytics, and insider threat warnings.
Raytheon CEO Matt Moynahan has even more plans for Raytheon's cybersecurity business. The unit plans to add behavioral analytics to its list of services, which will allow it to predict threats by making sense of actions and intent.
On Dec. 5, the company announced a new partnership with Pivotal Software Inc. to provide a key legacy system to cloud migration assistance to the Department of Defense. The goal of the new project is to reduce costs, improve delivery time, and fast-track the development of new software solutions.
Raytheon stock prices are up 43.39% over the past 12 months, and shares are up 11.35% in just the first month of 2018, with the stock currently priced at $209.18 per share. RTN also pays a generous 1.53% dividend yield.
Raytheon has also been participating in share buyback programs, effectively reducing its outstanding shares by 30% over the past decade. This has helped boost its share price by more than 274% over the past five years.
If Forcepoint continues its aggressive growth at a rate of 72% per year, this division will quickly become one of the company's most profitable and will justify the share price doubling in value over the next several years.
Now, it may sound too good to be true…
But all it takes is some spare change to capitalize on the opportunity of a lifetime: cryptocurrencies.
If you make the right moves, you could find yourself jumping for joy on top of an enormous pile of cash.
A growing number of economies, banks, and billionaires have begun backing these new forms of tender…
And once you understand how easy it is to profit from cryptocurrencies, it's easy to see why…
The cryptocurrency market is prepared to take off… so the time to learn how to buy them is now.
Don't regret missing out on this…
Just one tiny investment – even one under $100 – could put you one step closer to being a "cryptocurrency millionaire."