What Are These
Six U.S. States Hiding?
Covert Construction Sites to Generate $100 Billion in New
Wealth for Thousands of People, Right Here in This Country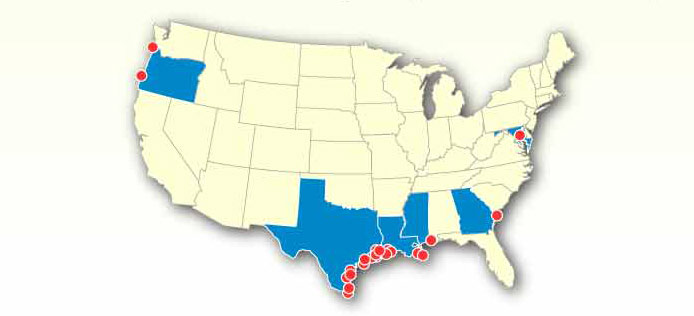 Dear Reader,
The image below has probably not been seen by more than 500 people…
It depicts a covert facility now being built in one of the most remote corners of the country.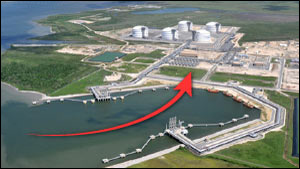 The facility covers 1,000 acres of land – equivalent to the size of 769 football fields.
It has a price tag of $12 billion, which is more than the combined cost to build the 10 most expensive buildings in America including the Bank of America Tower in New York City.
But unlike other major landmarks in this country – the general population doesn't know much about this facility.
It was built in a rural town in Louisiana that has a population of 6,700 people.
It isn't listed as a tourist attraction.
And to my knowledge, President Obama hasn't spoken about it publicly.
But when this facility becomes operational in 2015, I believe it will become one of the most important sites in America.
For Louisiana, this facility could create over 10,000 local jobs and add billions to the state economy.
And Louisiana isn't the only state that is going to have one of these facilities.
The U.S. government has approved the construction of 4 of these facilities, and has received applications for 13 more in six states including Maryland, Louisiana, Oregon, Mississippi, Georgia, and Texas.
Together, these facilities and others across the U.S. could…
Generate over 750,000 new jobs in America.
Add over $100 billion in state income gains.
And contribute up to $47 billion to America's GDP by 2020.
Over the next few months, you have the rare opportunity to be among the first to profit from these facilities before they are complete.
I have been working as a U.S. government advisor for over 40 years…
But I can tell you without a shadow of a doubt that an opportunity like this will NEVER be available to you again.
$60 Billion – Locked In
Take a look at this image one more time…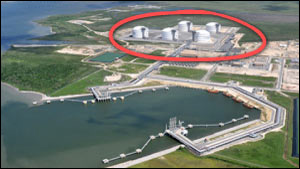 If you look closely, you'll notice that this facility in Louisiana contains five large tanks surrounded by a series of interconnected pipes and trains near a large body of water.
At first glance you would think this was a nuclear power plant or water storage facility…
But in less than 12 months, these tanks will be filled with a special type of liquid that is quickly becoming one of the most sought after substances in the world.
Today, this liquid is used to produce paper, metal, chemicals, stone, clay, glass, clothing, medicine, plastics, paints, fertilizers, photographic film, dyes, and petroleum.
It is even used to process various foods.
Since 2000, global demand for this liquid has grown by an incredible 7.6% per year.
That's THREE times faster than the global demand for natural gas for the same period. It's FOUR times faster than the global demand for oil.
In Asia, for example, demand for this liquid is expected to double by 2030. In Europe, it is expected to triple. And in the Middle East and Africa, it is expected to rise by another 530%.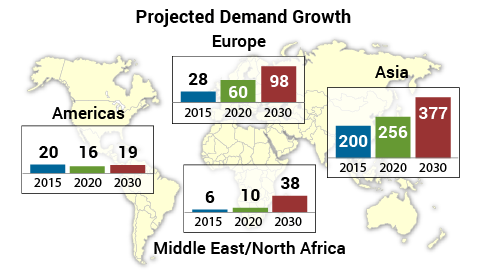 This is the future of LNG, or liquefied natural gas.
LNG is basically natural gas that is cooled and turned into a liquid.
This process reduces the volume of gas by a factor of more than 600 – equivalent to reducing a 17-inch beach ball to the size of a Ping-Pong ball.
Why turn gas into a liquid?
Because it allows countries to ship and store incredibly larger volumes of gas to different parts of the world.
Today there are around 110 LNG facilities operating in America.
Together, they account for 34% of total U.S. natural gas production.
But in 2015, America's first LNG export facility will open for business.
Shortly after, 13 more could be opening across six states.
Not only will these facilities deter power from our enemies but they will improve the energy security of our closest allies, and make thousands of Americans a lot of money.
Already, companies that have been building the pipelines and infrastructure for these LNG facilities are generating obscene profits…
Chicago Bridge & Iron (CBI), which offers engineering and construction services for LNG infrastructure facilities, has seen a near 40% rise in income over the last year. The company's stock has gone up 375%.
Targa Resources (TRGP), which operates 11,300 miles of pipelines used to transport LNG, has produced up to 440% gains for investors. In the second quarter of 2014 the company saw a 315% increase in net income from the year prior.
Golar LNG (GLNG), which owns a fleet of more than 13 ships dedicated to the shipping and regasification of LNG, has seen its stock rise by 510%.
And these are just companies that support LNG infrastructure.
The businesses that actually own and operate these LNG facilities will likely generate far greater profits and produce even bigger gains for investors within the next 18 months.
Here's why…
Arbitrage Opportunity
Unlike oil, natural gas is priced differently throughout the globe.
As you can see in this chart below, the price of natural gas in the U.S. (orange line) is far less than what it's trading for in the UK (blue line), Europe (red line), and Japan (green line).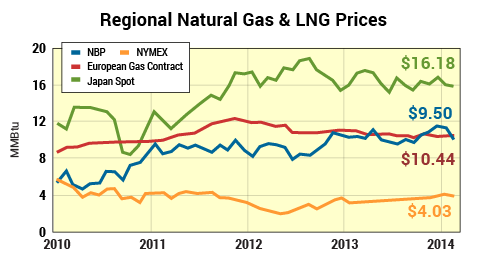 This gives the U.S. a distinct advantage when it comes to exporting LNG.
Just to give you an example, natural gas in America costs around $4 per million British thermal unit, or BTU. In Japan it costs $18 per million BTU.
This means that when America exports its gas to Japan, it could QUADRUPLE its profits on every BTU of energy it sells.
Not only that, but there is also a severe shortage of LNG export facilities in the world.
Currently there are 89 LNG export facilities worldwide, operating with a total liquefaction capacity of around 300 million tons per year.
Meanwhile, there are 93 LNG import terminals operating with a total capacity of around 700 million tons per year.
That's 300 million tons of export capacity vs. 700 million tons of import capacity – an export shortfall of 2.3 times capacity.
This is exactly why the export price of LNG is DOUBLE the import price, as indicated in this chart from the U.S. Energy Information Administration.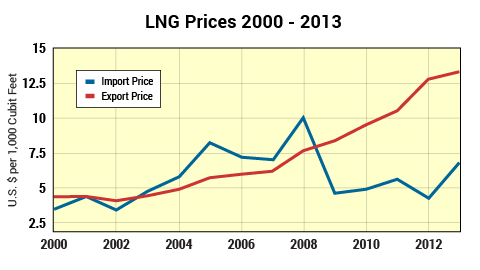 It's also why U.S. facilities who export liquefied natural gas around the world are set to make a fortune for at least the next 20 years.
Today, the Federal Energy Regulatory Commission (FERC), who is responsible for permitting export terminals, has a backlog of 13 LNG import and export applications.
Altogether, 28 liquefaction projects have been proposed with a total export capacity of more than 285 metric tons per year – practically equal to the current total of global LNG trade.
America's first LNG facility will go online in 2015…
It has already contracted 88% of its LNG export volume through 20-year contracts with companies in Indonesia, Spain, India, France, Britain, and Korea.
In short, this one facility has locked in nearly $60 billion in revenues.
As you can see in this chart below, the LNG export volume from this one facility is expected to increase by 300% between 2016 and 2020.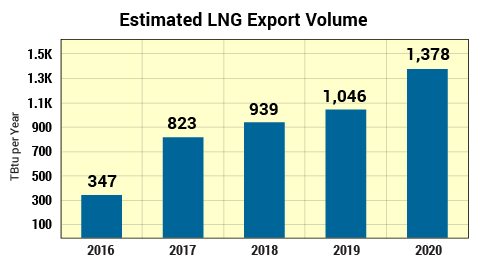 I've spent the past few months looking for an optimal way for investors to profit from this monumental development in U.S. history.
And in my new report, America 2015: The Year We Change the World, I'll tell you exactly how to profit from America's first LNG export facility. I put this report together so you can have the potential to start making money from this $100 billion industry, before others get in.
I've been studying the energy industry since 1975…
I've seen how energy developments can impact the wealth of our nation.
Few events in life are predictable. But I do know three things are inevitable:
The world's population will continue to grow…
The demand for natural gas will keep rising…
America is the one country best positioned to meet the world's energy needs.
European nations have already begun lining up to secure America's LNG exports.
In March 2014, ambassadors from the Czech Republic, Hungary, Slovakia, and Poland sent a letter to U.S. House Speaker John Boehner to help expedite the process.
Below is an excerpt from that letter:
"The presence of U.S. natural gas would be much welcome in Central and Eastern Europe. Congressional action to expedite natural gas exports to America's allies would come at a critically important time for the region."
And companies in China, Japan, Taiwan, Spain, France, and Chile have already signed long-term deals for American LNG, with each contract worth billions of dollars.
"We've had so many country representatives come into the office, pleading with us to step up our efforts to export LNG," admits Rep. Ed Whitefield, chairman of the House Energy and Commerce Energy and Power Subcommittee.
In Asia there is also a desperate, growing need for liquefied natural gas…
Japan's LNG imports have soared by 30% in recent years…
China's LNG imports have increased by about 77% from a year ago…
And India's natural gas demand is forecast to more than double within the next seven years…
For America, this is the opportunity to tap into the world's growing thirst for gas.
In total, the amount of LNG proposed to be exported out of the U.S. is around 50% of the natural gas currently being produced in this country.
Five years ago, no one thought this would ever have been possible…
In fact U.S. companies were only building import terminals anticipating greater U.S. demand for imported fuel…
But thanks to horizontal drilling and hydraulic fracking, America has not only discovered three trillion barrels worth of oil, which is three times the amount of oil that has ever been used on earth, but we've discovered 2,500 trillion cubic feet of natural gas.
That's enough gas to meet current U.S. consumption for the next 100 years.
And we are wasting no time extracting this energy.
In fact, in 2013, America became the world's largest natural gas producer.
Take a look at this chart:
Gas production in America's largest basins like the Bakken, Haynesville, and Eagle Ford has more than TRIPLED in the last several years.
And these levels continue to rise every day in every basin in America…
In short…
America will not only be energy independent within the next few years, but we'll be exporting oil on the level of Saudi Arabia…
And look at the wealth they have!
Today, the Saudis have the highest number of super-rich households in the world worth more than $100 million.
Women spend up to a million dollars on perfume…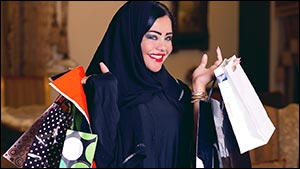 Men drag race Lamborghinis and Ferraris…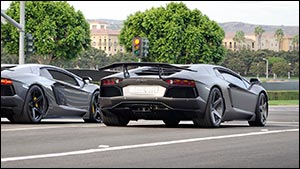 Courtesy:
Axion23
And the only reason these people are this rich is because of the amount of energy they export throughout the world.
According to the Energy Information Administration, Saudi Arabia produces 9.8 million barrels of oil per day.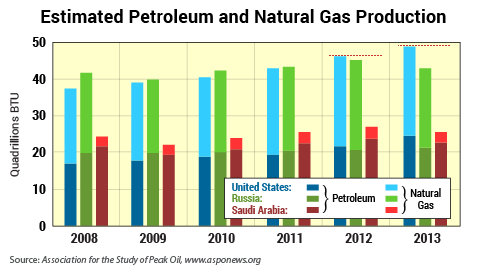 By 2015, U.S. production is expected to reach 9.2 million barrels of oil per day.
That's on par with what Saudi Arabia is producing. It's the same kind of wealth that the Saudis have… now going to everyday Americans like you and me.
By positioning yourself to profit from America's LNG industry, you have the chance to profit from what I believe is the most significant development in recent history.
This may not be news to you by now…
For the last several years, the story of America's newfound oil and gas wealth has become well known.
Today, over 15 million people live within one mile of an oil or gas well. There are currently 29 commercially developed oil and gas deposits being drilled in the U.S.
Take a look: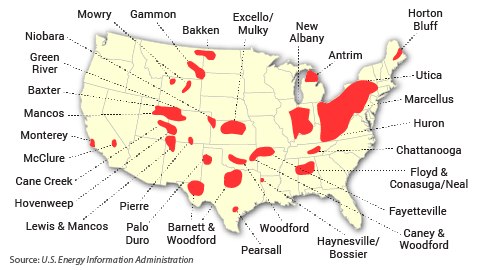 From the Carney Shale in Oklahoma to the Floyd Shale in Alabama, these basins are adding $500 billion to the U.S. economy every single year.
And the money flowing out of our nation's 1.15 million wells is your greatest opportunity for getting rich in 2014, 2015, and every year beyond that.
You just have to know where this money is flowing…
THE NEW BREED
You see…
Oil "Majors" like ExxonMobil, Chevron, BP, Total, ConocoPhillips, and Shell, are NOT the ones profiting most from this miracle…
Take a look at this chart…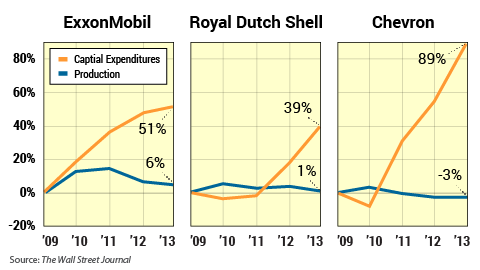 The orange line represents the amount of money that the three largest Oil Majors are now spending to boost their oil and gas output.
The blue line represents their total production.
As you can see, these two lines are growing farther apart every year…
This is the growing disparity that large companies are now facing between the costs to produce a well and the amount of oil and gas coming out of these wells.
According to Bernstein Research, production costs among the world's 50 largest public oil companies have increased 229% between 2001 and 2010.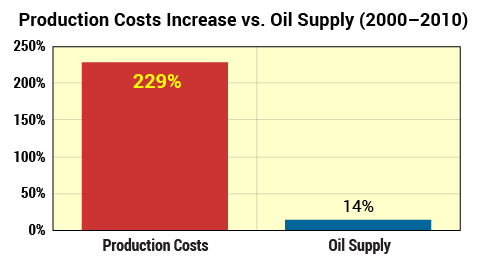 Yet during this period, global oil supplies have only risen by 14%.
The battle for the Oil Majors is futile. It's an unwinnable downward spiral in which these Oil "Majors" are spending exponentially more money for every drop of oil they produce.
But the money now flowing out of America's wells is no longer going into the hands of an elite few…
It is spreading to towns and cities all across the country…
And it is trickling down to millions of working-class Americans…
It's the reason why engineers are now getting paid as much as $350,000 a year.
Why drilling consultants with bachelor's degrees are making $240,000 a year.
Why guys like Ron White are getting paid as much as $250,000 just to haul water.
And why teenagers are earning $75,000 driving trucks the day they graduate from high school.
These people are at the epicenter of what I believe is America's "Second Coming of wealth" –  a new era of prosperity brought about from the large quantities of oil and gas we have recently discovered beneath our soil.
But of all these people there is one particular group that is now benefiting from this event more than ANYONE else.
They are known as the NEW Breed…
A secret collection of U.S. businesses that 99% of the public knows nothing about but who are making more people rich than anything I've ever seen.
These businesses do not own huge swaths of land.
They don't drill thousands of wells.
And they are not based out of one particular region of the country.
They are small companies – mom-and-pop operations…
They typically don't have more than a few hundred employees… operate in more than one place… or make themselves known to the general public.
Some of them do not even drill for oil and gas.
Others are privately held.
But what makes these NEW Breed businesses different from all other companies is that they can generate HUGE profits with very little capital.
Just to give you an idea…
Many of these NEW Breed businesses inherit wells that larger companies can no longer afford to operate.
Miller Energy Resources (MILL) for example, has less than 80 employees. The firm is run by a former real estate broker who developed apartments for 20 years.
With a market cap of $200 million, I'd wager less than 1/10th of 1% of investors know this company even exists.
But in November 2011, I knew that Miller Energy acquired wells that were abandoned by other energy companies.
Investors who got in early saw 150% gains in 24 months.
Another NEW Breed business, Pioneer Natural Resources (PXD), inherited Shell's leases in the Barnett basin in Texas.
Since 2009, the company has more than doubled its revenues. The stock has produced over 1,000% gains.
And Penn Virginia Corporation (PVA), a NEW Breed company with 144 employees took over wells abandoned in the Eagle Ford.
Over the last year, the stock has produced 269% returns.
Notice the pattern?
In short, large companies are now selling their valuable assets to NEW Breed businesses who have the ability to make energy fields profitable on a much smaller budget.
Again, few people know these NEW Breed businesses exist.
They don't sponsor NASCAR teams…
Their names aren't plastered on signs all over town…
And chances are, you won't find them drilling for oil or gas in your backyard.
But I can tell you from over 40 years of experience that these businesses have a better chance at making you rich right now than any other opportunity in the world.
Matador Resources (MTDR), for example, just had its IPO in Feb 2012. The firm only has 66 employees. But since 2008, Matador has grown its revenues by over 1,000%.
In the last 12 months the stock has produced 175% returns for investors.
Rice Energy (RICE), a family-run company headed by a 33-year old, only has oil and gas leases in two counties in Pennsylvania and one in Ohio…
I'd wager less than 1,000 people know this company exists.
But from January 2014 to April 2014, this stock produced 50% gains. That's four months.
Diamondback Energy (FANG), Inc., another NEW Breed business, has less than 70 employees and only operates in ONE basin.
Since late 2012, Diamondback's shares have gone up 350%.
As I said earlier, investing in these NEW Breed businesses is the best way to profit from America's Second Coming of wealth in 2014, 2015, and every year beyond that.
But here's the thing…
Finding these NEW Breed businesses isn't easy…
As I mentioned earlier, some of these companies don't even drill for oil or gas.
Trinity Industries (TRN), for example, manufactures railcars which are increasingly being used to transport large quantities of oil.
Over the last four years, the stock has produced 575% gains for investors.
American Railcar Industries (ARII), another railcar manufacturer based in St. Charles Montana, has shown investors 335% returns since 2011.
And Greenbrier Companies (GBX), which makes railcars and freight car equipment, has seen its stock go up by 260% in just the past two years.
Even trucking companies are making a fortune right now…
JB Hunt Transport Services (JBHT) and HUB Group (HUBG) – two trucking companies that transport oil rig supplies – have produced up to 1,900% gains for investors.
In short, for the first time in decades, small businesses run by ordinary Americans with drive and determination, are now profiting from America's oil and gas.
These businesses are not located in one particular sector…
They are hidden throughout the entire market…
But I believe I can help you find them in a way NO ONE else can.
My Special Privileges
My name is Dr. Kent Moors.
As I mentioned earlier, I've been working in the oil and gas industry for more than 40 years…
I've advised 27 world governments…
State governors…
Premiers of two Canadian provinces…
Private companies, financial institutions, and law firms in 29 countries…
I consult with the Energy Information Administration (EIA) and the International Energy Agency (IEA).
I'm a member of two State Department task forces on energy…
I even run my own oil and gas consulting firm.
But I'm not telling you any of this to brag or boost my ego.
In fact, I HATE talking about myself.
I'm only telling you these things because I believe…
There is no other person in the world that can help you prosper from America's Second Coming of wealth in the same way I can…
You see, my job gives me "special privileges" few others have.
For one thing, I am able to track the flow of money during any phase of an energy discovery, and can determine which business will benefit most at any given time.
Sometimes it can be a small water purification company.
Others times, a chemical plant operator.
In September 2011, for example, I knew about a small geothermal company called RAM Energy Resources (RAM) who was about to profit from an operation in West Virginia.
Over the next 90 days, RAM's stock went up by 164%. That's 90 days.
Another time, also in September 2011, I told investors about a company called Ener1 that develops energy storage technology. Those who followed my recommendation saw 178% gains in seven days.
A few months later, I latched on to a tanker company called Frontline Ltd. (FRO) which ended up showing investors 52% returns in less than 4 months.
Recently in December 2013, I came across a power generation company called Plug Power Inc. (PLUG). For the last 14 years, this company hasn't made a single penny in profits. But this company ended up producing a 106% return in just 30 days.
And today, I believe there is a huge opportunity for you to get rich by taking a stake in America's LNG export business.
To my knowledge, there is no one in the world who keeps track of every development in every basin in America and throughout the globe…
But as a member of the global energy community, it is my job to know where the money flows from the well head to the gas pump – before the rest of the market catches on.
That is why I spent the past year traveling the country in order to determine which of these NEW Breed businesses are positioned to profit most from this event in 2014, 2015, and every year beyond.
And now, after months of deliberation I've found what I believe are the best NEW Breed businesses on the market…
These are companies who will undoubtedly benefit from America's Second Coming and potentially quadruple your money before the year is out.
I don't say this lightly…
These companies could realistically make you more money than you've ever made in your entire life.
Just look at this first one…
New Breed Opportunity No. 1:
The "Ultimate Underdog"
This tiny $360 million company could be the biggest beneficiary of America's Second Coming…
They are responsible for shipping crude oil to countries throughout the world via large vessels like these…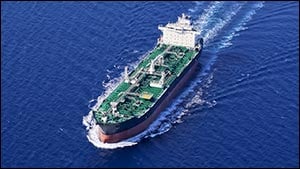 And their management just made a brilliant move, entering into an exclusive deal that will grow this tiny company's fleet from 5 to 39 vessels…
In other words, this business has just expanded its operating capacity by 875%…
The thing is…
99% of the investing public HATES this stock…
But once they see what's really going on here, the "sky is the limit."
This tiny $360 million company could be the biggest beneficiary of America's Second Coming…
And this is only one NEW Breed business I've found…
Take a look at this next one…
New Breed Opportunity No. 2:
400% on the Marcellus
The Marcellus basin is one of the largest, most productive oil and gas fields in America.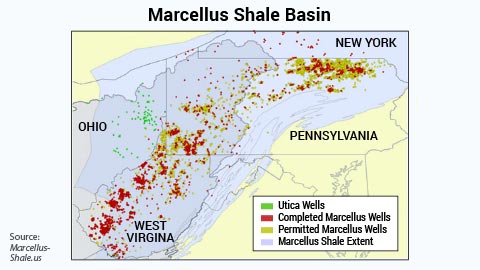 In 2013, the basin reportedly produced 12 billion cubic feet of gas a day – equivalent to about 2 million barrels of oil a day and more than 6x the 2009 production rate.
To date, there are more than 90 companies operating in this basin…
But of all these companies, one in particular has access to over 50,000 acres of land and plans on drilling another 240 wells…
In December 2013, this company produced 180 million cubic feet of natural gas per day.
That's more than QUADRUPLE the 40 million cubic feet of natural gas they were producing on a daily basis in early 2012.
With this company's revenues on track to increase by 400%… this stock has tremendous potential to make you rich this year.
That's why I've included it in my brand-new report: The NEW Breed: 11 Businesses That Could Quadruple Your Money by Year's End.
Inside this report you'll find everything I know about the first two companies I've just shown you, and a handful of others you're going to hear about today.
With the companies I've found, I wouldn't be surprised if you made enough money to buy a new car by the end of this year.
I've spent months trying to find these companies. I doubt there's a single person in America who knows as much about these businesses as I do.
And in my report, you'll learn more about every single one of them, including this next one…
New Breed Opportunity No. 3:
The Backbone Operator
One company I've found is responsible for manufacturing specialized pieces of equipment that could soon find their way into every drilling operation in America.
This equipment has been described as the backbone of the energy sector.
There's no doubt this company is on the verge of being one of the most vital players in America's Second Coming of wealth.
From 2011 to 2013, this company has grown its revenues by 25%.
In 2014, they increased their distribution payouts to investors by more than 25%.
They also saw a 32% surge in sales in the first quarter of this year.
With operations in more than 85 nations and record revenues every quarter, this business is one of the best long-term plays in America's Second Coming…
And look at this Texas land baron you'll learn about…
New Breed Opportunity No. 4:
A "FOREVER" Stock
With the state of Texas now producing 35% of U.S. crude oil, I've found one company that will allow you to profit from oil and gas royalties now being paid out across 20 counties.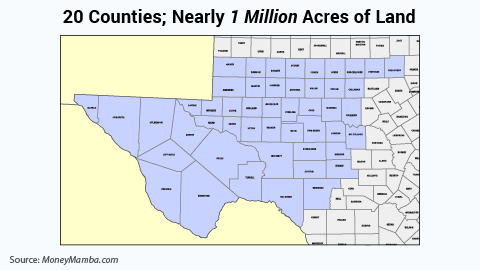 This company now owns nearly one million acres of land in Texas.
The stock has increased over 1,000% in the last 10 years.
And in 2013, royalty revenue jumped by 71%.
This company does not drill for oil or gas… They simply collect royalties from producing wells. It's one of the best businesses you could ever wish to profit from.
And here's another NEW Breed business I found…
New Breed Opportunity No. 5:
A Revolution in Oil and Gas
This company owns 60 patents covering technologies that will soon revolutionize the oil and gas industry.
Due to heightened demand for this company's patented technologies, the firm has increased its revenues by nearly

60% over the past two years

.
In 2013, revenues were 82% higher than in the year prior.
And after recently signing a major long-term supply agreement with a major transportation company, I wouldn't be surprised if this stock doubles by the end of the year.
Again, all the details on these companies are in my report, The NEW Breed: 11 Businesses That Could Quadruple Your Money by Year's End.
And I'd like to give you access to this report right now…
Click here or on the button below and get ready to take action right now.
This report highlights several more incredible opportunities, including:
Details on a company that operates 1,500 oil and gas wells and non-operating interest in about 800 others… yet has a market cap of just $131 million.
A business currently drilling in 41 locations throughout the most productive area of one of the most unknown shale basins in the world.
A way for you to profit from a collection of the fastest growing pipeline companies in the country while receiving income every quarter without fail.
Plus three more little-known NEW Breed businesses, each of which could quadruple your money by year's end.
You'll have a chance to access this report within the next two minutes.
But first, I want to make sure you're aware of something…
Ignore Your Friends
If you hear someone call this a "renaissance," they're mistaken…
This isn't a revival of something that's happened before…
America's Second Coming isn't just a temporary energy boom…
The amount of oil and gas now being produced, combined with what drillers are proving they can produce in the future, is unprecedented.
According to one academic study, shale oil is creating 2,000 new millionaires in America every year.
Bloomberg, the largest financial institution in America, says shale activity will spawn 3.6 million new jobs by 2020…
Additional research shows it will add another 3.9 million jobs by 2025.
Consider this fact:
In 2009, there were 824,000 producing oil and gas wells in the U.S.
Today, there are nearly 1.2 million active wells.
By 2020, there could be as many as 1.8 million wells according to Energy Global.
That's 670,000 new wells over the next six years.
With the average well generating 62 new jobs and $4 million in economic activity, this equals $2.6 trillion in new wealth.
But not everyone is going to benefit from this event…
Most Americans live in a perpetual daze…
They go about their daily lives… are reluctant to change… and remain ignorant to the opportunities around them.
This fact says it all…
63% of the U.S. population believes they will never become rich (or not likely)…
And only 2% believe they are already rich…
But like I said, you have a choice…
If you want to ignore this opportunity and continue living a modest life… earning a modest amount of money… I won't stop you.
But here's the thing…
As someone who tracks every development in every basin in America, I can tell you exactly what you need to do to profit from this event every year, for the rest of your life.
From small energy producers to equipment suppliers, construction firms and transportation companies…
I've spent years helping Americans prosper from the enormous wealth that lies buried underneath our feet…
Thanks to my contacts and expertise, I've produced monumental winners across all of my services…
A few years ago, for example, I discovered a tiny business that had just developed a superior technology for boosting production out of existing oil and gas wells…
With only four employees and a market cap of less than $20 million, this company was known only to a few people.
But after I told investors to get in on this opportunity, those who followed my advice would have made a 1,083% gain in LESS than nine months.
Another time, I uncovered a situation involving a small business called Petro Resources…
Petro's stock hadn't moved above $1 a share for several years. But through utilizing my contacts in the industry, I knew that this tiny firm had just undergone a dramatic restructuring, and had secured oil and gas properties in America's largest shale basins.
I recommended that folks take a stake in the company.
Over the next 13 months the stock generated 2,505% gains.
I once even helped investors capture a 212% gain in 24 days on a tiny energy company with a market cap of $2.5 million. Most restaurants make more money.
At any given time, I track over 500 companies positioned to profit from America's Second Coming. And by accessing my new report: The NEW Breed: 11 Companies That Could Quadruple Your Money by Year's End, I'll tell you about my favorite opportunities right now…
For example, one of the companies I'll tell you about in this report increased its energy production by 92% last year…
By the end of this year, their production is expected to grow by another 119%.
Not only that, but this business has recently started drilling in the "sweet spot" of what is believed to be America's next great oil deposit.
But I'll tell you right now…
I DO NOT share my research with just anyone.
It has taken me decades to build my network of contacts.
From former statesmen and Presidents to current heads of state, I'd wager less than 50 people in the world have access to the individuals I regularly consult with.
That is why I only share my insight with people whom I trust…
People who believe in America…
And people who want to better their lives…
That is why I started Energy Advantage…
Your God-Given Right
Energy Advantage is a private group of folks with whom I regularly share my insight.
The privilege of joining my group is that every time I visit a drill site, advise a company, or learn of a new development in a particular region, you'll be the first to know about it…
Just to give you an idea of the kinds of gains I've tracked down, this is a recent sample from all of my services.
Many of those who've acted on my research have benefited greatly…
Here are a few comments people have shared about some of my published work:
Steve L. from Vancouver, British Columbia, in an article discussing my work commented: "I bow before [Dr. Moors]. I took [his] recommendation… for a total profit of $17,111.35. Holy mackerel, can [he] walk on water too?"

Richard P. from Phoenix, Arizona writes: "I traded [your recommendation] for a 110% profit in 2 days."

And Brad B. from Bangor, Maine recently commented: "I bought [your recommendation]… 80% return in 7 days. Keep up the good work."
Like I told you earlier…
America's Second Coming is not a temporary event.
This is a new era of wealth that will impact millions of people over the next 30 years…
Once you join my Energy Advantage group, I'll share every opportunity I find every month, every week, and every day, if that's what it takes.
You will gain access to a secretive world VERY few people are exposed to.
And you will learn about opportunities that could quickly change your life.
Here's what you can expect to receive once you join my group:
The Monthly Issue – On the third Friday of each month, I will share my findings with you over a secure network. Inside each of my issues, you will get detailed descriptions of opportunities most people know nothing about… key developments in the energy industry… and updates to existing recommendations. These briefings are only for Energy Advantage members. I kindly ask that you NOT share them with others.
FREE Weekly Reports – Every week I will send you updates on big stories and investment targets. I record audio and video briefings to keep you up to speed.
Industry Briefings – Over the past year, I've been to over 20 countries. Often times, these trips expose me to the kinds of deals that can change your life. As a member of Energy Advantage, I'll give you news on every trip and the folks I talk to.
Vital Updates – The minute I learn of any news that can affect your position in any opportunities, you will immediately be notified via email.
Private 24/7 Access – Once you become a member of Energy Advantage I will give you private login information to my secure website. Here, you can view and read all of my monthly briefings and updates 24 hours a day, 7 days a week.
Of course, you'll also get immediate access to my brand-new report, The NEW Breed: 11 Businesses That Could Quadruple Your Money by Year's End.
Inside this report, you'll get details on…
The "Ultimate Underdog," the tiny $360 million company that could become the biggest beneficiary of America's Second Coming…
The "400% Marcellus Play," the one public company that has QUADRUPLED its natural gas production in the Marcellus…
The "Backbone Operator," that has recently created a special piece of equipment that could find its way into every drilling operation in America.
The "FOREVER Stock" I suggest you buy right now so you can profit from drilling operations across 20 counties in Texas…
The "Revolution in Oil and Gas" pick, which involves a company that has patent rights to a technology now being sold across America…
Plus, six other NEW Breed companies…
These companies operate in different sectors of the market.
Most of them are completely unknown to the public.
But I believe each one has the potential to quadruple your money by the end of 2014.
With your membership, you'll also get a copy of an important Energy Advantage report I've recently put together. It's called "Past, Present & Future."
This report will give you a comprehensive overview of America's Second Coming…
How it began…
Why it's changing America today…
What its impact will be in the future…
You'll also learn why companies in the transportation, oil field services and technology industries are now getting richer than ever before. I'll even tell you what industry I believe will profit most from this event over the next few years.
And remember…
As I mentioneded earlier, in 2015 America will begin exporting vast quantities of liquefied natural gas to countries around the globe.
In my new report, America 2015: The Year We Change the World, I'll tell you exactly how to profit form this development before others get in.
Just click here or on the button below to get started right away.
I'd hate for you to waste time and miss out on these opportunities.
Please, Don't Miss Out
The kinds of opportunities I regularly share with members of Energy Advantage are only known to a select few.
You won't find these opportunities in a magazine…
Read them in a newsletter…
And you certainly won't hear about them from any broker.
Understand, I'm one of the few people who spends time in just about every basin in America.
I keep tabs on over 500 companies at any given time that operate within these basins.
And I usually spend about 20 days out of any given month traveling the world… meeting CEOs… advising government leaders… energy agencies… law firms… companies.
Just one of the opportunities I disclose could make you enough money to retire early.
This is exactly why thousands of people happily pay me $5,000 a year for my insight.
But you don't have to pay anywhere near that much.
Not today…
As an American, you deserve to profit from this event no matter where you live or how much money you have in the bank.
That is why I'm going to give you the opportunity to receive my research for less than the cost of a tank of gas.
In fact, here's what I'm going to do…
Normally, the price for a one-year membership to Energy Advantage is $199…
But today, I'm dropping the price considerably…
And I'm doing this for two reasons:
I believe it is your God-given right to profit from America's Second Coming and I do not want you to be excluded from this event.
I want you to stay with me for the long term.
As I've been saying, America's Second Coming is not a temporary event.
The amount of money now pouring out of the ground will last for decades.
If you stay with me for the long term, I can promise to show you dozens of ways to make money from this event, every year for the rest of your life.
I do not want you to miss this opportunity…
That is why I've dropped the cost of membership all the way down to $49.50.
That's less than what you'd pay for a steak dinner…
It's just 25% of what you'd normally pay for my services…
And, when you join today, you've got nothing to lose.
Here's what I mean…
My "Double Your Money" Promise
Try my research service for the next 90 days.
Take advantage of the recommendations.
Read all of my reports.
Immerse yourself in my research.
See what you think.
And after 90 days, if you decide that Energy Advantage is not for you, for whatever reason, let me know and I'll refund your money. That way, you risk nothing.
In fact, I'll even take it one big step further…
If you don't – at the very least – see the opportunity to DOUBLE your money FOUR times over the next 12 months, just give us a call, and we'll give you a 100% refund. No questions asked.
I am making this promise because I believe I can help you profit from this event every single month for the rest of your life… in a way NO ONE else can.
As a matter of fact, 90% of my current open recommendations are winning right now. It's a track record that speaks for itself and the enormous power of The Second Coming.
Remember, the minute I hear from you, I'll give you instant access to my new reports:
REPORT #1

: The NEW Breed: 11 Businesses That Could Quadruple Your Money by Year's End.

REPORT #2

: Past, Present & Future.

REPORT #3

: America 2015: The Year We Change the World.
These reports are yours to keep, regardless of what you decide. And remember, this is just to help you get started making money almost immediately.
Just click here or on the button below get started.
With truck drivers like Fred Mcullough now making $250,000 a year… and clothing store owners like Amy Slater now making $3.5 million a year from this single event…
There's no reason you shouldn't get rich from America's Second Coming.
And like I said, if I don't DOUBLE your money at least 4 times over the next 12 months, you can cancel your Energy Advantage membership and I'll give you your money back – every penny.
At this point, you just have to ask yourself one question:
Do you want to join the millions of Americans who are now profiting from America's Second Coming?
Or would you rather do nothing and watch as others reap the wealth that you deserve?
All I ask is that you seize this opportunity before you regret it and click the button below.

To become a member of Energy Advantage by phone call 800.672.0745 (or 443.353.4351 for international callers) and mention priority code WEADR321.
Thank you for your time and God Bless America,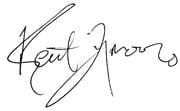 Dr. Kent Moors
Editor, Energy Advantage
August 2014