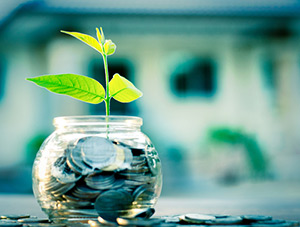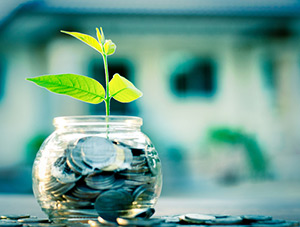 Each day, Money Morning Members benefit from the ideas, research, and strategies of our team of 10 investing experts who together have more than 250 years of combined experience. We offer this to you at no charge, so you can become a smarter, more confident investor – and build your wealth like never before.
We also invite you to sign up for the following free opportunities that will give you a chance to make more money than ever in sectors like technology and energy, master easy investment strategies that deliver the fastest gains possible, and become better acquainted with our seasoned investing experts and their proven profit techniques.
Like Money Morning, each of these free newsletters is a publication of Money Map Press, a 100% independent and world-renowned financial publisher. Our recommendations and analysis are never influenced by Wall Street, politicians, or the mainstream media.
There's never a charge, and you can unsubscribe at any time…
Keith Fitz-Gerald's Total Wealth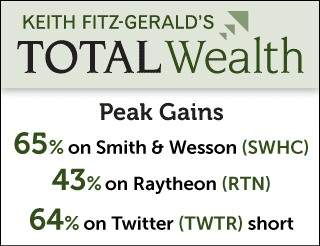 Total Wealth comes to you from Chief Investment Strategist Keith Fitz-Gerald, with the goal of helping everyday investors overcome a troubling statistic: As a group, they earn just half the returns they could be making each year. You see, Keith is one of the few investing experts who is able to not only match the return of the broader market, but outperform it – over and over again. Keith has 35 years of experience as a market analyst and professional trader, and now he's sharing his unique investing strategy, distilled into three steps: Spot the trends… pick the trades… and build your fortune.
Keith has identified six "Unstoppable Trends" that are changing the world and moving trillions of dollars, and aligning your money with those big-profit trends ahead of the mainstream is an essential component of his wealth-building strategy. When you subscribe to Keith's Total Wealth, all of his reports will be sent straight to your inbox as soon as they are released, with instructions on how to trade those trends for blockbuster gains and create the fortune for you and your family that you've always wanted.
Click here to begin receiving Total Wealth twice each week at no charge.
Go here to read the latest Total Wealth article if you're already signed up.
Michael Robinson's Strategic Tech Investor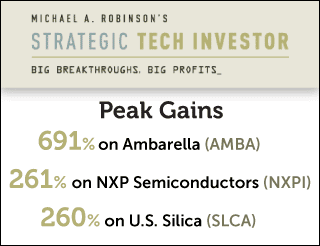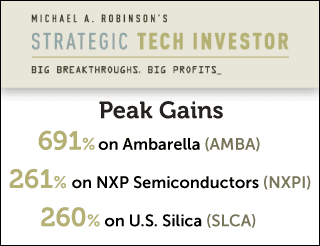 Strategic Tech Investor is built on the premise that the road to wealth is paved with technology – and nobody knows this better than Michael Robinson, a 36-year Silicon Valley veteran and renowned tech investing expert.
Tech has minted more millionaires than almost any other sector, regularly outperforming commodities, real estate, and even oil and energy. And now today's disruptive, paradigm-shifting technologies are coalescing to create some of the most impressive money-making opportunities in the last half century. Strategic Tech Investor is your ticket to those high-profit ideas.
Twice each week, Michael brings you an inside view of the discoveries and trends he's following – like the Internet of Things, artificial intelligence, virtual and augmented reality, and wearable tech. You'll learn which companies are out in front of these trends and ripe for your investing dollars, plus strategies for consistently making the most money. Subscribers who followed his recommendations on rare earth elements, for example, saw gains of 990% in less than a year and a half.
The tech sector is the fastest route to double, or triple, or even quadruple your retirement savings – and Michael will be the one to get you there.
Click here to begin receiving Strategic Tech Investor twice each week for free.
Go here to read the latest Strategic Tech Investor article if you're already signed up.
Dr. Kent Moors' Oil & Energy Investor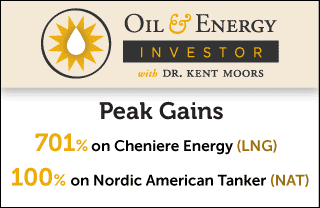 Dr. Kent Moors has been one of the world's most sought-after energy experts for more than 40 years, with a roster of clients boasting top oil companies and natural gas producers and 20 world governments. Subscribers to Kent's Oil & Energy Investor service are granted exclusive access to the intelligence he gathers from his year-round meetings with the energy sector's biggest players – for free.
Every week Kent offers insight on what's really going on in the energy markets, beyond the headlines and mainstream media sound bites – and what you can do to profit. This is your opportunity to get connected to the elite inner circle that controls 90% of the global energy supply. The analysis and investing recommendations included in each issue of Oil & Energy Investor simply can't be found anywhere else – not from television pundits, Wall Street money managers, or personal investment advisors.
The U.S. oil industry… renewable energy… liquefied natural gas… Kent zeroes in on the best ways to cash in on the energy sector today.
Click here to begin receiving Oil & Energy Investor free of charge.
Go here to read the latest Oil & Energy Investor article if you're already signed up.
Shah Gilani's Wall Street Insights & Indictments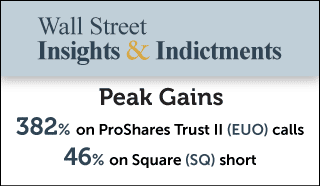 Wall Street – the hedge fund millionaires, regulators, traders, politicians – is a rigged system. That's why Shah Gilani pulls back the curtain on this high-stakes game to expose how it's really played, and how you can win it. A "trader's trader" with more than 30 years of experience, Shah ran his first hedge fund from a seat on the floor of the Chicago Board Options Exchange in 1982.
Shah's been making a killing in the stock market for years, and now he brings his insider's perspective to subscribers of his Wall Street Insights & Indictments publication. Whether he's reporting on what the major players on Wall Street are up to, dishing out criticism of crooked politicians on Capitol Hill, or exposing the corrupt underbelly of our nation's most "esteemed" institutions, Shah tells it like it is, unwavering in his commitment to the truth. He also brings you the best trades to make to profit on the trends he's following, like financial "disruptors" that are upending the traditional banking system and revolutionizing the way we live.
Click here to start receiving Shah's Wall Street Insights & Indictments twice each week at no charge.
Go here to read the latest Wall Street Insights & Indictments article if you're already signed up.
Tom Gentile's Power Profit Trades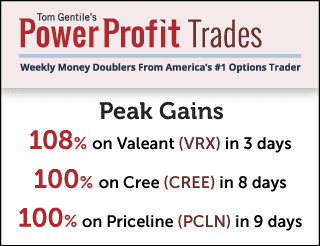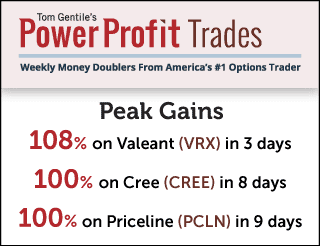 Seventy percent of retail traders lose every cent of their money in just one year – and of the 30% who manage to avoid that fate, only 5% make money over time. Tom Gentile's Power Profit Trades is your passport to joining the elite "1%" who rake in the vast majority of the profits.
Tom has devoted more than 30 years to developing a proprietary investing system that delivers 100% to 200% gains on the smallest of stock moves, earning him the title of "America's No. 1 Trader." Now he's bringing his money-making strategies directly to subscribers – for free.
Tom won't even consider a trade if there isn't a strong possibility it will result in a 100% return – with minimal risk and the least amount of capital outlay. He'll show you how to pick the right trades for maximum profits, supplemented with instructional videos so you can "learn while you earn." From the simplest and most conservative stock-only trades to more complex options plays that can triple your money fast, this is your chance to get a world-class trading education from a master.
Click here to begin receiving Tom's Power Profit Trades for free.
Go here to read the latest Power Profit Trades article if you're already signed up.
D.R. Barton's The 10-Minute Millionaire
D.R. Barton, Jr., has made his own success. He's never been a Wall Street insider, never worked at a big bank or fancy brokerage house. In fact, it was while working as a chemical engineer at DuPont that he discovered the powerful wealth secret that turned him into a self-made millionaire.
Now he's sharing it with you.
D.R.'s 10-Minute Millionaire strategy finds and capitalizes on specific stocks that can dramatically grow your portfolio and turn even your worst-performing investments into winning trades.
Ten minutes is all it takes to set up this three-step system. Then it runs virtually on autopilot, doubling or tripling your money without chaining you to a trading screen.
But The 10-Minute Millionaire is more than a wealth-building strategy. It's where D.R. shares insight, tools, and tips from his 25 years in the markets. As a 10-Minute Millionaire, you'll learn how to spot profitable opportunities on your own – so you can take control of your financial future and get started on the path to your first million.
Just click here to get D.R.'s primer on this system: The Secret That Can Turn $2,500 into $1 Million or More and start receiving The 10-Minute Millionaire directly in your inbox for free.
And get ready to be on the fast path to your first million!
Go here to read the latest 10-Minute Millionaire article if you're already signed up.
Tim Melvin's Max Wealth
Tim Melvin is an unlikely investment expert – self-taught, no college or business school, and got his foot in the door at a brokerage firm through sheer perseverance. But he does have 30 years of experience managing money and watching how rich people invest. In Max Wealth, he'll show you the methods that your broker claims don't exist. These methods are the only real way to take control of your money, grow your nest-egg, and beef up your bank account with six and seven digits. He's done it himself, bagging nothing but double and triple-digit winners since 2013.
Click here to begin receiving Tim's Max Wealth for free.
Go here to read the latest Max Wealth article if you're already signed up.