Editor's note: Boehner's Shocking Prediction: When he was Speaker of the House, he counted the votes. Now John Boehner predicts Congress will soon transform a controversial $10.8 billion industry, but space is limited.
---
Dear Reader,
On May 14, 2018, the nine justices of the U.S. Supreme Court decided in a 6-to-3 vote to make "bookmaking" LEGAL in the United States.
Not just in Nevada… but in New Jersey, too. Pennsylvania, West Virginia, Connecticut, and dozens of other states now have a choice to follow suit just as quickly now that their legislatures can pass the necessary local laws.
Specifically, the Supreme Court has legalized betting on football, baseball, basketball, hockey, and every other professional and college sport.
That means that all 50 states can make sports betting completely legal. So, for example, if you want to place a bet on your favorite football team, you no longer have to find a shady "bookie" in your neighborhood to take your bet. You no longer have to log onto an illegal (and probably unethical) offshore website in the Caribbean. You also don't have to travel all the way to a "sports book" in Nevada to place a legal wager.
Now, you can just go to the nearest casino and plop your money down on the counter. Or maybe just your neighborhood sports pub. Before long, you'll even be able to place a bet on your cell phone!
If you love betting on sports, this will come as very welcome news to you.
But even if you don't like to gamble…
Even if you don't care about sports at all, even if you've never put a dollar down on your office pool for "March Madness," this groundbreaking Supreme Court decision will affect YOU.
It could even make you very wealthy.
In the next few years, you are going to see what I expect will be the biggest transfer of money OUT of the hands of organized crime and INTO the hands of savvy investors.
This is your way in – with these five stocks about to break out.
Sports Betting Stock No. 1:
William Hill plc (OTC:WIMHY)
William Hill plc (OTC:WIMHY)
Share Price: $15.73
Market Cap: $3.47 billion
Dividend Yield: 4.48%
William Hill PLC is a British company best known for its Licensed Betting Offices – the storefronts of which seem to be on every corner in every British city. There, you can place bets on your favorite sport, many oddball and political outcomes, or even play a video gambling game.
But William Hill has aspirations far beyond the U.K. The United States will be their most significant opportunity yet when sports betting grows beyond Las Vegas and this Supreme Court decision becomes an everyday media darling. Their current leadership position in Las Vegas and their expertise in mobile gaming and betting will be the keys to their dominance of the U.S. market.
In Las Vegas, most of the largest casino companies – like Caesars and MGM – have their own sportsbooks. Smaller casinos do not have the resources to operate a proper sports book. They can do the money management part of the business – that's easy. But setting a correct (profitable) betting line, setting limits on bets, properly hedging betting portfolios to prevent blowout losses… Those are all difficult and take a certain expertise – which is where William Hill comes into play.
William Hill, when they saw the size of the sports betting opportunity in the U.S., acquired three specialists firms in Las Vegas and brought their own experiences from U.K. betting to make the operation better. The result is that William Hill already operates an incredible 108 of the 192 sports books in Nevada.
Since their acquisitions, William Hill has expanded their products, primarily by introducing in-game betting and developing a mobile application that can be used there – something as simple as clicking a button on your phone. In fact, 31% of the company's online revenue was generated in Las Vegas, despite Vegas being only 3% of overall revenues.
That sportsbook business in Vegas is William Hill's entrée to the rest of the company. In the U.S., states are unlikely to create an entire regulatory apparatus to support stand-alone stores like they have in the U.K.
But that's also not an issue because sports betting is going to be attached to existing gambling facilities – casinos and racetracks. And just like in Las Vegas, most casinos won't have the resources to operate their own sportsbooks. They'll look to the operator who helped the smaller casinos in Vegas compete with the giants – and that's another entry point for William Hill.
They also have an agreement with Monmouth Racetrack in New Jersey to open a sports book there – which they had even before the Supreme Court's ruling. And in Iowa, the company has an agreement with Caesar's to operate a racing book, which would naturally become a sports book as soon as sports betting is legal there.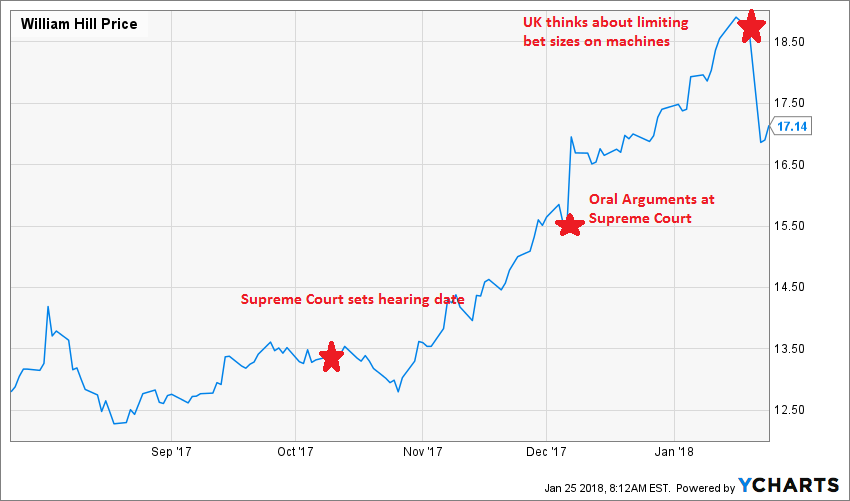 Finally, there are three states which run "sports lotteries." In one of those states – Delaware – William Hill is the bookmaker who chooses the games and sets the odds for the sports lottery. There is no company anywhere which has done as much as William Hill to be ready for U.S. sports betting.
The company has a 26% market share of revenue in Las Vegas. They're likely to get more than that outside of Las Vegas since the large casinos are less prevalent outside of Vegas and the independent casinos are both less likely to open their own sports books and to hire on a competitor to operate their sports books for them. But let's use that 26% market share as a base. On a projected market of $20.4 billion, a 26% market share comes to $5.3 billion. That's a 234% revenue increase over the company's 2016 total. William Hill is a mature company, and there's every reason to believe that their costs will be lower in the U.S. than in the U.K. because they don't have to support all those retail stores.
So we're talking about a 234% increase in the price of William Hill's stock even before there's any market growth from mobile gaming and without any economies of scale from tripling the size of the company. That's without any market share gains, and without any premium attached to the fact that William Hill will suddenly be a high-growth company. And I think they'll dominate the market outside of Vegas, gaining a higher market share. So I think that the estimate of 243% is a minimum expectation and the reality will be much higher.
William Hill's stock has recently taken a 10% hit after a run-up associated with the Supreme Court case Christie v. NCAA. That's because Britain's gambling regulators are thinking of limiting the betting amounts on some of the gambling machines they have in their stores there. It's true that that could be a big negative in the short term, so I'm glad the stock declined as far as it did on the news. That gives us an opportunity to invest in the much bigger United States opportunity without the distraction of U.K. regulation.
Sports Betting Stock No. 2:
Churchill Downs Inc. (NasdaqGS:CHDN)
Churchill Downs Inc. (NasdaqGS:CHDN)
Share Price: $299.65
Market Cap: $3.96 billion
Dividend Yield: 0.51%
Churchill Downs is most famous for "The Greatest Two Minutes in Sports" – the Kentucky Derby. But the company which owns Churchill Downs has built itself into a formidable casino/racetrack company, and one well positioned to take advantage of sports gambling when it becomes legal in their jurisdictions. In fact, Churchill Downs pioneered online gaming and even online sports betting in a sense – they've offered a mobile horse-betting application for over ten years!
That online experience, combined with their sizeable portfolio of casinos and racetracks in attractive markets, makes Churchill Downs not just a natural winner from sports gaming, but an attractive acquisition target if one of the "Big Four" in Vegas decides on a major U.S. expansion.
Churchill Downs' online horse betting application is called TwinSpires, and it already generates an incredible $221 million of revenue for the company. They operate TwinSpires under their own brand names, advertise to customers of their racetracks, and act as a service provider for other racetracks which want to offer the service where Churchill Downs does not already operate. Between their own operations and those of their partners, TwinSpires processed $1.2 billion of bets in the past year, 11% of all legal pari-mutuel bets (a sports betting term in which the betters backing the first three places divide the losers' stakes) in the U.S. and nearly a 50% market share. And that's with permission to operate in just 40 states – not already including the large and horse-loving Texas.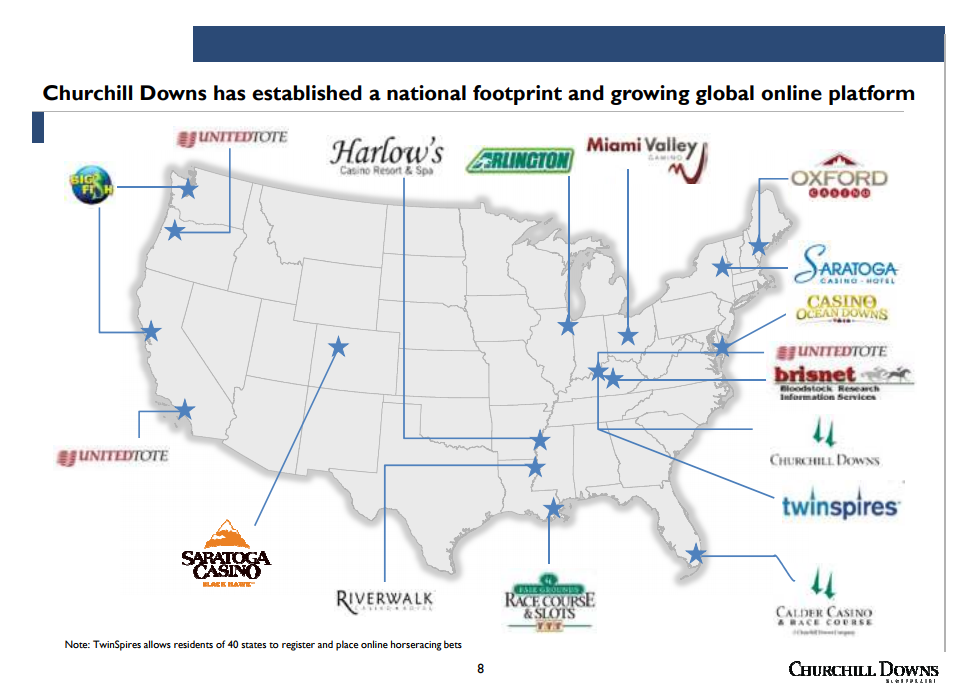 Churchill Downs has another mobile asset which will help them with sports betting in social gaming when the time comes. The company owns Big Fish, the largest operator of "mobile casual games." These are strategy, action, puzzle, and even casino games which are offered primarily for free while generating revenue through the sale of virtual items (like virtual currency in a casino) which enhance gameplay. This business may seem only distantly related to the traditional casino business or sports betting, but it makes Churchill Downs a top-10 publisher of content for Android and Apple – with all the market clout that implies. It also proves the company's ability to run a huge platform, something no other casino company has demonstrated, and it has proven that the company has the ability to upsell. If they can get people to pay real money for "free" games, taking mobile bets with real cash prizes will be easy.
Together, the mobile horse-betting and social gaming units contribute 54% of Churchill Down's revenue. That's leagues apart from any other casino company, and a demonstration of how important the company's management sees mobile gaming.
Happily, Churchill Downs' casinos and racetracks are also performing well, since it's around those facilities that Churchill Downs will eventually get permission to offer sports gambling. Churchill Downs' casinos tend to be small, and the company's casino revenue is less than one percent of the industry total. Their racetracks are larger in comparison to the industry, so while the company only operates 5% of races each year, their market share of pari-mutuel betting is much larger.
John Boehner: "American's should go all in on weed": He was once "unalterably opposed" to marijuana. Now the former speaks of the house is helping Americans make a fortune from it. Exclusive Story.
But the key for Churchill Downs is not the current size of their casinos or horse tracks, but that they exist and have licenses in key states. This will allow them to unleash on-site sports betting and mobile sports betting as the states gain the capacity for it.
Currently, the company operates or invests in a racetrack or a casino in states which cover 28% of the U.S. population. And of course, they could partner with operators in other states as they've done on the racing side with TwinSpire.
If Churchill Downs is able to capture the same 11% share of the sports bets that they've achieved with the pari-mutual bets, then $44 billion of sports betting handle could be added to their top line. Since it will come as a combination of processing revenue and a percent of the bet, let's assume they keep a little less than traditional sports books – say, 4%. That's $1.76 billion in revenue to Churchill Downs – a 135% increase over their 2016 revenue.
But for Churchill Downs, the sports betting is just the beginning. Mobile gaming will follow sports betting as states compete for tax revenues. And Churchill Downs is unique in that they have a database of customers who generate nearly half a billion of revenue playing "free" games, including over $180 million in "free" casinos.
And of course, there's the possibility of the entire company being acquired. The "Big Four" in Vegas have been pretty quiet with acquisitions and expansions in the United States, as Caesars dealt with financial problems and the others focused their investment capital on Las Vegas and the giant opportunities in Macau. They could afford to wait since the domestic industry was slow to recover from the economic recession – but not anymore.
Caesars is out of bankruptcy and the big companies are looking at the United States. MGM recently opened a $1.6 billion mega-resort near Washington D.C., and Wynn is building an even bigger resort in Boston. And, once sports betting spreads across America, the Big Four will want a nationwide footprint from which to offer mobile sports betting… and quickly at that.
Any casino company can be acquired of course, but the combination of Penn National and Pinnacle Games makes the company an unlikely target as they will be doing their own integration following the merger. Potential acquirers will want to see the combined company operate for a while before placing a value on it. With Churchill Downs the situation is different. Its last big acquisition, Big Fish Games, was in 2014 and the company has a steady operating history since then. It also has the largest list of states they operate in after the Penn/Pinnacle combination. And it has the prestige of hosting the largest event in horse racing, which would be a nice perk for a Big Four casino to offer to their best customers.
The combination of the growth prospects, plus its attractiveness as an acquisition candidate, makes Churchill Downs a candidate to triple its stock price. That may explain why the stock has increased by 83% in the past year and still has a huge opportunity ahead. The smart money is betting on Churchill Downs and the other stocks in our report because they see the opportunity.
Sports Betting Stock No. 3:
The Stars Group Inc. (NasdaqGS:TSG)
The Stars Group Inc. (NasdaqGS:TSG)
Share Price: $35.35
Market Cap: $6.01 billion
Dividend Yield: N/A
The Stars Group owns the popular PokerStars and Full Tilt online poker games. Enforcement of U.S. regulations, where the company had been strong, and a management scandal has laid this company low. But new management has righted the ship, and now the company has over a billion dollars of annual revenue, is in good regulatory stead around the world, and even has online casino operation in the United States.
The Stars Group does not separate its sportsbook revenue from its casino revenue, so it's a little hard to get a handle on their success to date, but based on what we can learn and on the size of the opportunity facing them, the sky is the limit for Stars.
Here's what we DO know, though:
Stars only began offering sports betting in 2015, and they market it almost exclusively to their existing poker customers.
Even with that, they've increased their active quarterly customers from 30,000 in Q2 of 2015 to 270,000 in Q3 of 2017 – a 9X increase in just over two years.
Revenue from casino and sports booking also increased by 48% in that third quarter over the same period last year.
We also know the business is not yet profitable as the company continues to invest in the platform to allow for future growth – which is finally here.
And we know that those investment losses haven't stopped the company from growing overall earnings at a 20% annual rate.
So the company is pursuing a disciplined growth strategy which allows for earnings growth. For 2017 as a whole, the company expects to generate revenue of $1.3 billion and earnings of $457 million. That's pretty impressive for a company which lost $20 million just two years prior.
Like William Hill, The Stars Group has seen the change in U.S. law coming, and they've been preparing for it. Rather than a Vegas-centric strategy like William Hill, TSG has focused on mobile gaming, paid poker where it's legal (New Jersey), and gathering free poker players elsewhere in the U.S., all while they work on their mobile sports application in Europe. The company offers paid poker in New Jersey through a conditional casino license that they have in partnership with the Resorts casino there.
As with William Hill, the opportunity is enormous in the U.S. Stars Group's current market share of the sports betting market is currently zero, of course. But with operations already in New Jersey, they'll be poised to take a large share of that market, as they're the only operator besides William Hill with a mobile sports betting application ready to go. The company is already hard at work on finding an appropriate partner in Pennsylvania. A toehold there will also benefit the company since Pennsylvania has also passed a sports betting law which took effect as soon as the Supreme Court ruled.
Boehner: 3 Events will Transform Marijuana Forever: Could legal marijuana become a $1 trillion industry? Former Speaker of the House, John Boehner, reveals how you can get in on this green gold rush, but space is limited.
Pokerstars brings a lot to the table as a potential partner. They already sponsor live poker tournaments in the United States, so they have established relationships with many of the smaller casinos which won't develop their own sportsbooks and a credible brand name with gamblers – even those who don't play poker. They have a ready-made "hotlist" of potential customers among their poker players, a list they've been using to great effect outside the United States.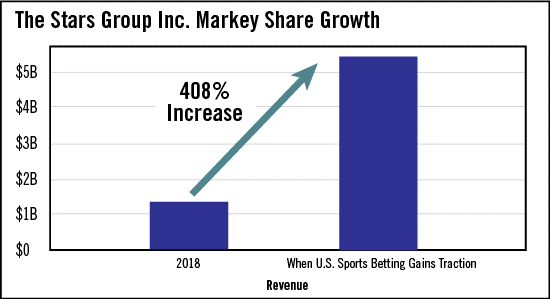 In fact, there's no reason The Stars Group couldn't equal William Hill's market share. That's $5.3 billion of revenue on the company's current base of $1.3 billion – representing a 408% increase. Now, The Stars Group is a more profitable company than William Hill, so it will be more difficult for the company to maintain its profit margins as it grows. On the other hand, Stars' international presence gives it more and better growth opportunities outside of the United States… It's no wonder William Hill found them an attractive takeover candidate! In fact, it wouldn't surprise me a bit for this company to be a takeover candidate, perhaps even by William Hill.
Before we go with this one, there's one last detail that makes me excited about the opportunity ahead – It's a classic turnaround play. The company's prior management had a built a successful mobile casino "back office" business, providing platforms for other gaming providers. Then, they acquired the parent of Pokerstars and Full Tilt, which are the businesses the company has today. Unfortunately, that management team may have been too greedy for quick profits – the prior Chairman, David Baazov, was arrested for insider trading in connection with the Pokerstars acquisition.
With that management gone (and most of his shares sold) and with the old businesses successfully sold, the new administration was free to grow the company we see today at an incredible rate.
So with a possible 408% revenue increase and the possibility of a takeover, the sky is truly the limit with Stars!
Sports Betting Stock No. 4:
Scientific Games Corp. (NasdaqGS:SGMS)
Scientific Games Corp. (NasdaqGS:SGMS)
Share Price: $50
Market Cap: $4.56 billion
Dividend Yield: N/A
Scientific Games is a provider of the "games behind the games." That's to say, a state may have a lottery, but Scientific Games provides the games itself – the machine which blows the tennis balls around for the daily numbers game, the scratch-off tickets, the sophisticated computers and programs required to run a lotto-style game. In a casino, Scientific Games might provide slot machines, table games, casino-management equipment, and even little things like automatic playing card shufflers.
In other words, they're like a classic "picks and shovels" play for the casino industry.
Importantly, the company also has a growing division dedicated to providing mobile gaming for casino customers.
Recently, Scientific Games saw the writing on the wall regarding legal gambling in the U.S., and they've been making acquisitions to get ready. Their most important acquisition was a company called NYX Gaming Group. NYX was the leader in systems provided to sportsbook operators. They also offered digital games to smaller gaming operators such as taverns and betting shops of the kind William Hill operates. In 2016, NYX processed over two billion sports bets, and they set a record for sports bet processing speed at a horse race in England last year. In the U.S., NYX provides the back-of-house technology for Betfair's online casino, offering in New Jersey and for the leading U.S. sports bookmaker, William Hill of Britain.
NYX maintains its leadership in sports-betting back-room processing as part of Scientific Games, of course. But as a division of Scientific Games, it now has nearly limitless resources to grow, improve, and expand its product offerings.
How important was the NYX acquisition for Scientific Games? Important enough that William Hill even tried to stop the acquisition. William Hill had a substantial equity position in NYX because helped NYX acquire its mobile gaming platform in 2016, and they preferred the company to be independent even at the cost of a substantial profit on their investment. William Hill made peace with NYX and Scientific Games – they even could increase their business with NYX after the sports betting became legal in the U.S. – and the acquisition proceeded. The battle and its outcome indicate how well-regarded NYX technology is.
Looking at the size of the opportunity for Scientific Games is more complicated than for the front-line companies like the casinos, mobile operators, and bookmakers. NYX does not profit from the wins, losses, or even from the margin kept by the bookmaker, but from the number of wagers.
In Las Vegas, the average bet size varies from $20 to over $100, depending on the casino and the event. But that number is influenced by big players and by "special occasion" gambling – when someone goes to Vegas specifically to bet on a big event. After a guest has paid for a hotel, airfare, meals, and the rest of a Vegas vacation, a "large" bet seems pretty small.
William Hill reports that the average wager in its betting shops is £9, which is equivalent to $12.71 in U.S. dollars. That's step one. Step two is to apply that average to NYX sports book revenue. NYX's sports revenue comes in a division called "professional services," which had 2016 revenue of $63.2 million Canadian dollars, or $51.2 million U.S. dollar, which the company earned by processing two billion sports bets. That's only 2.56 cents per bet.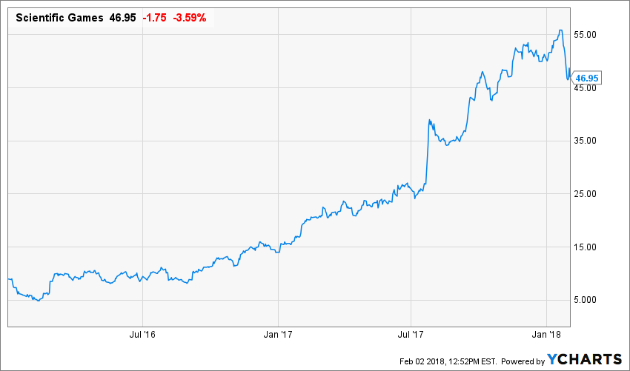 But those pennies add up. Let's take a projected $400 billion sports betting industry in the U.S. and divide it by the British average bet size of $12.71. That gives us 31.47 billion bets in the U.S. alone.
Doing the math gives us $807 million of sports betting processing revenue available in the U.S.
And, there's no reason NYX can't get half of that – or more. Remember, they are a neutral operator so they can provide services to companies which compete with each other. And they already process about half the legal sports bets in Las Vegas.
That means a 17.5% increase to Scientific Game's overall revenues… and that's solely from traditional sports betting.
Online and especially mobile sports betting represents a further opportunity for Scientific Games, and here it becomes apparent just how smart the company was to acquire NYX. Scientific Games had an existing portfolio of what are called "social games." These games are online, and increasingly mobile, games which are nominally free but which sell extra credits. This division also already provides mobile pay casino products in New Jersey for the largest mobile gaming provider there. The technology behind these games, whether for "free" games or paid ones, combines perfectly with NYX existing social game and sports book business to create a powerful product for mobile gaming. That means another huge boost to Scientific Games' sales and the combination of the two could add up to a 30% or more increase in revenues.
The best news is that 30% is just the start for this company. Scientific Games has several things going for it, even beyond the NYX acquisition. It's been consolidating the gaming back-of-house industry to become a full-service gaming competitor to industry giant International Gaming Technology PLC (NYSE:IGT). A few years ago, Scientific Games was second in the lottery business and an also-ran in its other businesses. They've acquired table-game manufacturers, slot machine companies, lottery companies, and others to round out their product portfolio. Further, they've been investing in these acquisitions and their base business. For example, the company rewrote the base software of two of the slot machine companies they acquired to make the games more exciting for the users and easier for the operators.
The result? Scientific Games has been growing organically at more than twice GDP growth recently and at more than 30% per year after acquisitions.
That's what has powered a 700% increase in Scientific Games share price over the past two years. With NYX as part of the company's portfolio and with the other growth initiatives it has, there's no reason that Scientific Games can't repeat that performance and eventually pass International Gaming Technology as the largest gaming supplier in the world.
Sports Betting Stock No. 5:
Penn National Gaming Inc. (NasdaqGS:PENN)
Penn National Gaming Inc. (NasdaqGS:PENN)
Share Price: $35.95
Market Cap: $3.30 billion
Dividend Yield: N/A
Two of the companies in this exclusive report, William Hill and The Stars Group, were identified because of their "back office" expertise – they have proven abilities in mobile gaming and in sports betting.
This pick, however, has something else that I've been looking for – location, location, location. Specifically, they have existing gaming locations in the places where legal gaming will start its sweep across America. While the lack the mobile expertise of Churchill Downs, they have more locations in more states, which will be key to securing the licenses necessary to offer sports gambling and mobile gambling.
When you think of casino companies, you might think of the Big Four Vegas-based companies – MGM, Caesars, Wynn, and Las Vegas Sands. But the fifth and sixth largest casino companies in the United States have little exposure in Las Vegas. And after they complete their merger later this year, they'll be the third largest — bigger than Wynn, bigger than Caesars, and they will have more U.S. revenue outside of Nevada than any casino company.
John Boehner: "It's time to go all in on weed": Join the Former Speaker of the House and the most powerful people in cannabis for a historic online summit. Attendance is free, but space is limited.
It's the combination of Penn National Gaming and Pinnacle Entertainment that provides the best U.S. platform for sports betting growth. The new Penn National will own 41 different gaming sites in 20 jurisdictions. In fact, they'll be so dominant that they preemptively agreed to sell four properties to another operator to assuage any antitrust concerns.]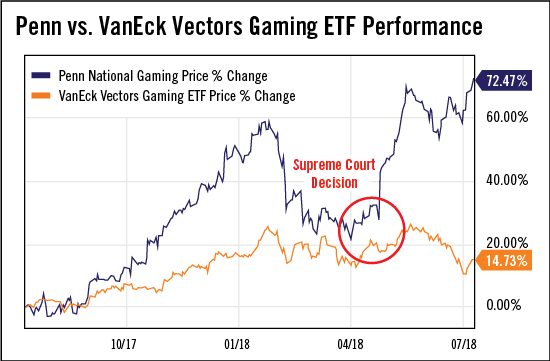 The companies are ready to go, as they own Freehold Raceway in New Jersey and two properties in Pennsylvania. After that, the company is in every major gaming jurisdiction in the U.S. Chicago and the surrounding area, the Mississippi gulf coast, up and down the Mississippi River, Boston, Southern California, Florida, Texas, Colorado, even Nevada. In fact, in Nevada, one of their two hotels is the Tropicana. The Tropicana is no longer one of the better hotels in Vegas, but the sports book at the Tropicana is among the most storied in Vegas. Currently, Penn National, which owns the Trop, outsources its sports book operation to CG Technology, one of the few competitors that William Hill has left. It will be interesting to see if Penn acquires CG, throws them out, and develops their own platform, or continues to have them as a partner.
Penn National is on the sports betting task force of the American Gaming Association and told the casino regulators in the states where the company already operates that it was interested in sports betting becoming legal – even before the decision was made.
After their merger with Pinnacle and the sales of four casinos, the company will have about $5 billion of revenue, around 14% of the U.S. commercial casino total outside of the Vegas Strip. That translates to $2.86 billion using our estimate of the size of the illegal betting industry, or a 57% revenue increase for Penn.
But the benefit to Penn is likely to be larger than that. What makes Penn stand out is that their costs associated with this new revenue will be much lower than their overall costs. That's because many of their costs are fixed – there's already a casino building, a hotel, and a racetrack. The marginal cost of adding a sports book is pretty low after making all those investments. To take one example, MGM recently announced that they are building a sports book at their $1 billion Borgata resort in Atlantic City. The cost of that is mere $7 million. An investment of less than one percent of the cost of the resort could open up a 73% increase in revenues!
Based on that kind of financial leverage, it's easy to see that Penn National's operating cash flow could double, triple, or shoot even higher than that. And the casino industry is valued primarily by a multiple of operating cash flow adjusted for an estimate of the company's growth potential.
And there you have it! The five most promising companies in the newly-legalized, sports betting industry that are ready to explode with potential.
Buying in now might be the smartest bet you'll ever make.
Best regards for great investing,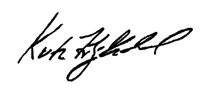 Keith Fitz-Gerald