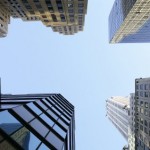 The numbers are in, and the amount of money fueling 2013's biggest companies is staggering...
The 10 biggest companies in the U.S. today earned a combined annual revenue of more than $2.2 trillion in fiscal 2012. That's $1.35 trillion more than the country's credit card debt, and $1.17 trillion more than total student debt.
These moneymakers have been ranked based on total revenue by Fortune. All of them are incorporated in, operated in, and filing taxes in the U.S.