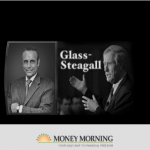 A little more than two weeks ago a "little" story hit the news. And by little, I mean perhaps the biggest money story that you and I will likely see in our lifetimes.
That's because, for the first time in decades, it sets up two opponents, Wall Street and Washington, on opposite sides of the ring.
So who is "the most hated man on Wall Street" right now? That would be Sen. Angus King, along with his cohorts, Sens. Elizabeth Warren and John McCain.
They had the courage to introduce legislation that would bring back the Glass-Steagall law. In essence, they called for the breakup of the banks as we know them.
This interview with Sen. Angus King is critical to understanding the full force of this legislation.
Wall Street will fight with every penny they have. But we're calling for our readers, and every citizen concerned about his or her money and the "too big to fail" culture of socialized risk, to get involved.
For starters, we wanted to see exactly what Sen. King had to say about this legislation.
Please listen to the interview by Shah Gilani or read the transcript. And help us win this one...