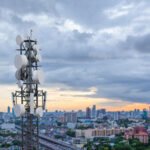 5G technology covers a vast range of innovations.
And they are multiplying by the minute.
That's why Allied Market Research projects 11,977% growth for the 5G industry.
It's worth around $5 billion today, but it has the potential to reach $667 billion by 2026.
We know some of the best 5G technology stocks to buy if you want to hop on the wagon.
But it's important you don't go in blind.
5G is a very technical sector, and you will want to understand the waters before diving in.
Today, we're going to help you do that.