FOMC Meeting
FOMC Meeting: What You Need to Know for January 2019
The U.S. Federal Reserve is expected to hike interest rates twice in 2019, but it's unlikely it will raise rates during the Jan. 30, 2019, FOMC meeting.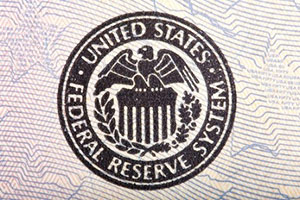 The Federal Reserve has hiked rates nine times since December 2015, but the recent downturn in the stock market has given Fed Chair Jerome Powell pause.
Despite a strong economy – 2018 finished as the best year for employment growth since 2015 – Powell is striking a more dovish tone, telling the public the Fed "will be patient."
Plus, Cleveland Fed President Loretta Mester says that if inflation doesn't rise, then the Fed might not raise rates at all.
But the Fed needs to raise interest rates to have a useful tool for stimulating the economy during the next recession. After a positive December jobs report showed the 312,000 jobs were added (compared to an expected 176,000) while average hourly earnings rose 3.2%, the Fed might want to act quickly.
That's why investors are focusing on the January FOMC Meeting…
Will the Fed Raise Rates at the January FOMC Meeting?
The CME FedWatch Tool currently projects a 98.4% probability the Fed keeps rates the same, which means there is unlikely to be a rate hike.
Between dovish comments from FOMC members and the stock market's recent sell-off, the Fed is unlikely to rush into another rate hike.
In fact, analysts are predicting the Fed simply won't raise rates at all this year. The CME FedWatch Tool shows a 75% probability for rates to stay the same for all of 2019.
Urgent: This catastrophe could bring the U.S. economy to its knees – and make the Great Recession seem like a day at the beach. Read more…
But interest rates aren't the only tool in the Fed's stimulus arsenal. It also needs to unwind its $4.5 trillion balance sheet if it wants to buy more assets during the next downturn…
Why Unwinding the Fed Balance Sheet Matters to You
The Fed spent trillions of dollars to help stimulate the economy between 2008 and 2015, and some analysts worry pulling the money back out will slow the economy.
Starting in 2008, the Fed began buying up assets in an effort to combat the 2008 recession by injecting money into the economy. The Fed would spend over $3.5 trillion between 2008 and 2015, buying everything from toxic mortgage-backed securities to treasury notes.  
Money Morning Chief Investment Strategist Keith Fitz-Gerald has found that a staggering 93% of all market moves between 2008 and 2016 can be attributed to the Fed.
Since the Fed bought these assets to stimulate the economy, it needs to sell them back, or let them expire, now that the economy is growing again. If it doesn't, the Fed won't be able to respond to future downturns the same way.
Even though the Fed needs to get rid of these assets, unwinding the balance sheet means pulling money out of the economy. Analysts are concerned the Fed's spending spree helped boost stock prices during the bull market beginning in 2009, and without that money, the market could pull back.
This is the "biggest risk" to the economy right now, according to Michael Vogelzang, president of Boston Advisors.
Don't Miss Out: The Treasury is sitting on an $11.1 billion cash pile, and a loophole entitles Americans to a sizable portion. Some are collecting $1,795, $3,000, or $5,000 every month thanks to this powerful investment…
In fact, the Fed unwound 9% of its balance sheet in 2018, the first losing year for stocks since 2015.
But investors who sell their stocks because of the Fed could be making a mistake.
That's why Keith isn't worried by the Fed's balance sheet or rate hikes.
"Millions of investors mistakenly believe that rate hikes spell the death of equities," Keith said back in June 2016.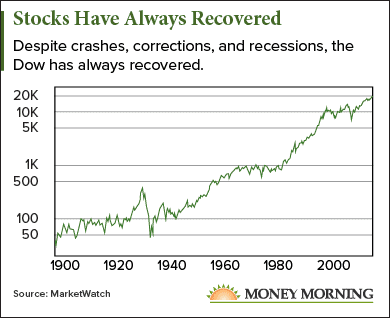 While the Fed unwinding its balance sheet could be more destabilizing than the Fed raising interest rates, Keith isn't expecting it to hurt the stock market.
"If the Fed sticks to the snail's pace normalization it's followed so far, then the markets can absorb the garbage dump," Keith told Fox Business Network's Neil Cavuto.
Keith says he would only be concerned if the Fed proposed a gimmicky strategy to get rid of its assets, like bundling junk mortgages with AAA bonds.
Either way, investors are better off staying in the stock market for the long haul. Trying to time the market's dips and surges is nearly impossible, and it's more likely you'll miss out on long-term gains that way.
"Bottom line: Stay in to win," says Keith.
Chair Powell is already assuring Wall Street the Fed won't act drastically too.
Last week, he told an economics conference the Fed will stop its unwinding if it affects the markets.
"If we came to the view that the balance sheet normalization plan – or any other aspect of normalization – was part of the problem, we wouldn't hesitate to make a change."
And while the Fed might not divulge much more information about unwinding its balance sheet, it's something else to keep an eye on during the next FOMC meeting.
Here's a look at the Fed's 2019 meeting schedule, so you'll know when to start taking a closer look at Fed policy.
The 2019 FOMC Meeting Schedule
The Fed is planning to hold eight FOMC meetings in 2019.
If the Fed follows through with its plan for two more rate hikes this year, we won't know which dates it will chose. That's why it's important to take a look at the CME FedWatch Tool ahead of these dates – or sign up for our "Fed Watch" Profit Alerts so you don't miss a thing.
These are the Fed meeting dates for the rest of 2019:
Jan. 30
March 20
May 1
June 19
July 31
Sept. 18
Oct. 30
Dec. 11
And rising interest rates will impact your money…
What Higher Interest Rates Mean for Your Money
Higher interest rates mean borrowing money becomes more expensive, and it can lead to lower stock prices.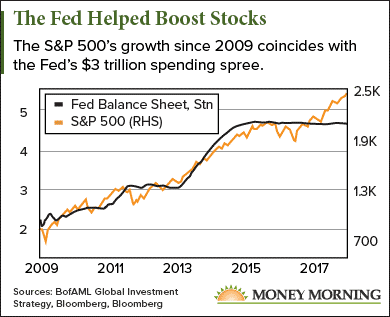 Higher interest rates could lead to stock prices dropping, because businesses will see their borrowing costs rise. This might lead them to borrow less money, which could lead to slower growth.
Rising interest rates also make bonds more attractive investments because they pay higher yields. Rising bond yields could lead to investors moving their money out of the stock market and into bonds. That means share prices could fall as money leaves stocks.
But we don't recommend following what everyone else does.
Like Keith says, staying in the stock market is the only way to see long-term growth. In fact, history shows us that stocks will always rise.
But there are two other ways higher interest rates can affect your money…
First, higher interest rates strengthen the value of the dollar.
A stronger dollar means your money will go farther internationally. Imports will become cheaper as the dollar strengthens – each dollar will be able to buy more – and traveling abroad will also be cheaper.
Since oil is traded in dollars, a rising dollar will lead to cheaper oil prices, too.
And while the conventional wisdom holds that a rising dollar means precious metals' prices will fall, we know that's not true. In fact, we're expecting climbing interest rates to be a bullish catalyst for gold and silver.
Editor's Note: Just click here to sign up for Gold Updates to make sure you get our next recommendation as soon as it's released.
Second, rising interest rates will lead to higher borrowing costs for most Americans and businesses.
Car loans, new mortgages, and credit card debt will come with higher interest rates.
For example, the average car loan interest rate is currently 4%, but before the 2008 financial crisis, car loans came with an average interest rate of 8%.
Similarly, if you have a variable rate mortgage or a balance on a credit card, your monthly payments will go up after the Fed hikes rates again. You can avoid paying more by refinancing to a fixed-rate mortgage before the Fed raises rates, or paying off your credit card balance.
But higher interest rates will also help, too.
Interest-paying savings accounts will pay more after a Fed rate hike. Currently, the average savings account pays a 0.06% yield. But before the Fed slashed rates in 2008, savings accounts paying over 5% yields were still available.