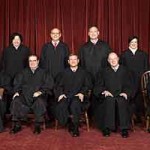 A history of Supreme Court nominations reveals it's quite rare for a president's pick to be flat-out rejected by the Senate -- but it does happen...
Earlier today, President Obama announced Merrick Garland as his selection to replace deceased conservative justice Antonin Scalia on the SCOTUS. Garland is widely considered a "moderate" judge. That means he would be in the position of issuing crucial "swing votes" to decide cases.
Even though Garland's not a staunch leftist, President Obama's nomination flies in the face of national Republican leadership, which has demanded the president leave the seat vacant until the next presidency in January 2017.