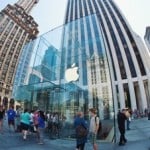 When Apple Inc. (Nasdaq: AAPL) stock plunged about 6.4% in one minute this morning, befuddled Wall Street analysts came up with a lot of unlikely culprits.
Some blamed a Morgan Stanley downgrade, or profit-taking. Or weak Black Friday sales.
All of this is obviously grasping at straws. Nothing the analysts suggested would make a widely held stock like AAPL sink more than 6% in a minute.