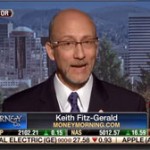 Of all the Apple stock price predictions out there, this may be the boldest: AAPL shares will reach $200 within 24 months.
And that bold call belongs to a seasoned market analyst with 33 years of experience -- Money Morning Chief Investment Strategist Keith Fitz-Gerald.
He wasn't shy about it, either. He made the call on the FOX Business program "Varney & Co." earlier this month, startling host Stuart Varney. Most AAPL stock price predictions are much lower.