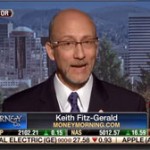 The Apple share price will reach $200 24 months from now.
That's what Money Morning Chief Investment Strategist Keith Fitz-Gerald told FOX Business anchor Stuart Varney Monday when asked about Apple Inc. (Nasdaq: AAPL).
But here's what I couldn't say: The Apple share price could get there even faster. The reason is the new Apple Watch. Or rather, what the Apple Watch will become.