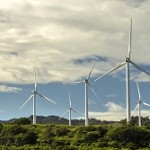 There's a new centerpiece for the accelerating move to renewable energy: Hawaii. The state has opted to go all out on alternative energy.
In May, its legislature overwhelmingly passed a plan to move to complete independence from fossil fuels for power generation.
But Hawaii has an unusual partner in moving away from its reliance on oil and natural gas - the U.S. military.