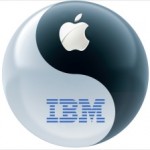 You may remember the famous "1984" commercial introducing Macintosh personal computers.
In the ad, "Apple" is an iconoclastic young heroine who hurls a hammer at a giant screen broadcasting "Big Brother" (IBM) lecturing to a legion of followers.
But instead of David battling Goliath to the death, the two are now joining forces in a bold new pact, and it's a good deal for both companies.