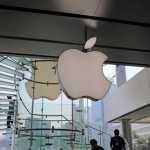 When looking for tech investing winners - like Apple Inc. (Nasdaq: AAPL) - the best gains come by jumping on unstoppable trends. The "mobile wave" trend is one of them.
You see, Apple is projected to sell a quarter of a billion iPhone 6s in 2015. The force behind that is Apple Pay, the company's mobile payments system that lets users pay for things by waving their phone over them.
In 2014, shoppers made $50 billion in mobile purchases. That number will soar 328% to $214 billion in 2015.