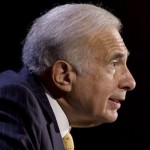 This doesn't happen very often.
Carl Icahn has been foiled in one of his activist investing ploys, and by none other than Apple Inc. (Nasdaq: AAPL).
Icahn's bid for an Apple stock buyback worth $50 billion ran aground today (Monday) when an influential proxy voting service, Institutional Shareholder Services Inc. (ISS), sided with Apple.