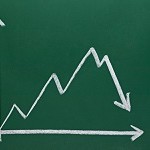 T.S. Eliot must roll over in his grave every time some smart-alecky financial writer says that "April is the cruelest month."
Having to hear the anti-intellectual elite pretend to have read, never mind think they have the remotest understanding of those words or what follows in one of the most complex literary works of the 20th century is galling enough. But hearing that over-used phrase misused to excuse more underperformance and bad policy is flat-out nauseating.
April 2015 was only cruel to those who remain wedded to the idea that markets are rational, trends move in straight lines, and policy makers have the remotest clue of what they are doing.