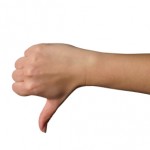 The Q4 earnings season has started off on an unexpectedly good note.
Both Alcoa Inc. (NYSE: AA) and Wells Fargo & Co. (NYSE: WFC) last week reported fourth-quarter earnings that beat estimates.
But before you get too excited about the rest of Q4 earnings season, keep in mind not all companies will be able to beat projections. Some industries were hit harder than others by uncertainty around fiscal cliff tax hikes and spending cuts, as both consumers and businesses reined in spending.
To prepare investors for the underperformers of Q4 earnings season, Bank of America has identified 12 stocks it thinks will disappoint. Each has a "Sell" rating and missed earnings estimates on revenue or profit last quarter.