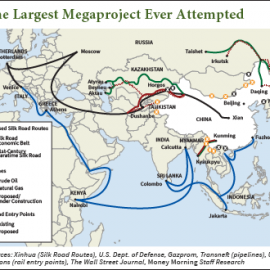 It's obvious that China has superpower ambitions, but now we have, quite literally, a map detailing how she'll get there.
It will be on the "New Silk Road," spanning the entire Eurasian landmass - with links to Africa and Oceania, too.
Such a transport corridor is an ancient concept, but what's being built now will be far bigger and more lucrative than anything the old Han emperors could have ever imagined.
Its immediate aim is to move goods, raw materials, information, and money across borders from China to Portugal (and back) with unprecedented speed, efficiency, and of course, profitability.