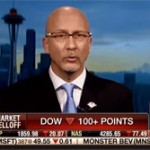 Blue-chip tech stocks were some of the biggest growth catalysts for the bull market we exited in January. That was the longest bull market since World War II, which lasted six years.
Now we've entered a bear market. And it's sent the Nasdaq down 17% from its July highs.
Apple Inc. (Nasdaq: AAPL) and Amazon.com Inc. (Nasdaq: AMZN) are already down 11% and 26% this year, respectively.