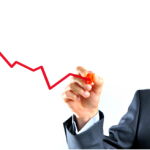 Periodically, each Federal Reserve Bank gathers anecdotal information on current economic conditions in its geographic district.
Banks take into consideration the outlook of regional Fed bank directors, interviews with key business contacts, economists, market experts, and other sources.
This information comes out 8 times per year in a compilation report dubbed the "Beige Book" - it's essentially a summary of economic activity in the 12 Fed bank districts as prepared by a designated Federal Reserve Bank on a rotating basis.
Today (Wednesday), the Federal Reserve released its latest.
Therein, manufacturing reportedly expanded in most districts.
Consumer spending, auto sales, transportation, commercial real estate, and banking has improved.
Hiring activity modestly improved, but three districts noted businesses' reluctance to hire permanent workers. We're likely seeing the effects of Obamacare.
Notably, housing demand and construction activity increased at a moderate to strong pace in all districts.
Meanwhile, tourism and agricultural conditions seemed bogged down by bad weather.
In sum, overall economic activity has reportedly continued to increase at a modest pace since the last Beige Book, released on June 5.
Sounds good, but how about some specifics?
Here are some interesting economic tidbits I came across while perusing July's Beige Book, broken down by district: