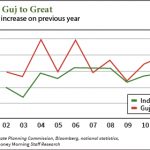 Hardly anyone would argue that China isn't an economic miracle.
Over the last 20 years, its 1.3 billion people have propelled the Chinese economy into the world's No. 2 spot.
But two decades of blistering 10% annual growth have moderated to 7%.
However, a potential sea change is underway in its southern neighbor, India.
With a new, impressive prime minister, and a burgeoning consumer population, they're setting up as the next economic miracle... Full Story