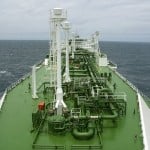 Natural Gas Stocks 2014: As Russia's clash with Ukraine and the West boils on, pressure is mounting for the federal government to loosen export regulations on U.S. liquefied natural gas.
Currently, the U.S. exports natural gas to only a handful of countries, such as Canada. No U.S. LNG is exported to Europe.
That's mainly because the key factor in gaining the U.S. Department of Energy's blessing to export is whether or not the importing country has a free-trade agreement (FTA) with the United States.