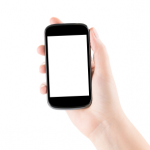 Companies that make CPU chips - the "brains" inside every kind of computing device - have a fresh catalyst within the mobile wave to help stimulate sales: "ultramobile" products.
Ultramobile is the term that research firm Gartner is using to describe very small and light notebooks, as well as tablet/laptop hybrids like the Microsoft Corp. (Nasdaq: MSFT) Surface.
In its projection for this year and next, Gartner sees the ultramobile category adding to the growth of mobile wave devices like smartphones and tablets, which together today form a much bigger market than that of traditional PCs.
Ultramobiles will create new opportunities for the CPU-makers as the mobile wave continues to rise.
"The 'mobile wave' is massive, and is where growth is at in the chip sector," said Money Morning Defense and Technology Specialist Michael Robinson.
Major beneficiaries in this space include ARM Holdings plc (Nasdaq ADR: ARMH), Qualcomm, Inc. (Nasdaq: QCOM), and of course Intel Corp. (Nasdaq: INTC).
At stake are billions of dollars in revenue.