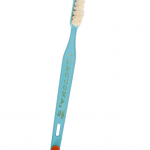 The best investment advice I ever received came from Warren Buffett. "Buy what you love," he said.
For most investors, that means stocks, bonds, or real estate. But for a fast-growing group of investors "buying what they love" means memorabilia.
Now before you write this off as a fad, consider this...
Jimi Hendrix's guitar originally sold at a New York auction for $100,000 and a mere four years later sold for $480,000.
That's a return on investment of 380%. When's the last time you made that kind of money in the stock market?
The truth is memorabilia is one of the great hidden investments.
In fact, on Thursday, something very unique is going on sale - especially if you're a space enthusiast. It's a toothbrush.
But it's not just any toothbrush, it's the one Buzz Aldrin took with him to the moon.