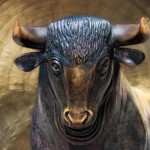 U.S. stocks jumped right out of the gate Tuesday, hoping to break a two-day losing streak - and this makes for a long list of hot stocks to watch today.
All three major benchmarks were comfortably in the green in morning trading, with the Dow Jones Industrial Average up more than 110 points just minutes after the opening bell.
There were plenty of stocks moving sharply higher on company news, industry developments, analysts' actions, and earnings.