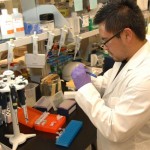 Five years ago, I quit drinking.
I did so not because I had a problem, but in order to shed some weight. And I was lucky - after I stopped drinking, the pounds just seemed to melt away.
I know most folks aren't that fortunate. That's why dieting and exercise in the United States is a $60.5 billion industry.
The party season surrounding Thanksgiving, Christmas, and New Year's is rapidly approaching, and so that weight-watching industry is just as quickly ramping up its marketing.
With that in mind, I found us a way to invest in this huge sector - and also stick with our mission to build wealth through technology.