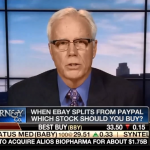 On Tuesday, eBay (Nasdaq: EBAY) announced plans to spin off its PayPal unit into a separate, publicly traded company.
The move won't happen until the latter half of 2015, but it still has investors asking, "What's the better stock to buy between the two - eBay or PayPal?"
Money Morning Defense & Tech Specialist Michael A. Robinson answered that very question on FOX Business' "Varney & Co." program Tuesday.