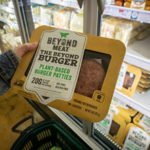 Every once in a while a stock will start trading that completely mints a new class of millionaires. That's the case with Beyond Meat Inc. (NASDAQ: BYND).
Beyond Meat started trading on Wall Street a few short months ago.
Since that time, the stock has doubled multiple times with no end in sight. BYND has pulled back about 15% from its high following its first earnings report this week, but the stock is still up more than 230% from its debut.