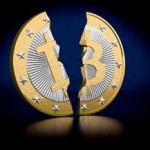 Bitcoin's future is more at risk now than at any time in its six-year existence.
A civil war has erupted over the best way to scale the digital currency to handle a larger number transactions.
The impasse has put Bitcoin's future in doubt. If its users split apart now, with Bitcoin in its infancy, it will undermine trust and discourage adoption - potentially smothering Bitcoin in its crib.