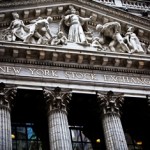 Not only has venture capital investing in Bitcoin failed to slow even as the price of the digital currency has slumped, but now some big Wall Street names have hopped on the bandwagon.
On Tuesday Bitcoin payments and wallet platform Coinbase announced it had raised $75 million in Series C funding. That's more than double the previous amount of venture capital invested in a Bitcoin company.
But this time it wasn't just the usual Bitcoin-friendly VC firms backing Coinbase.