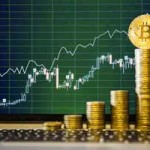 Bitcoin prices today climbed to record highs, thanks to a convergence of positive catalysts.
As the Bitcoin price soared to an all-time high of $4,348 on Monday, investors couldn't be sure if the rally would keep going or if a correction was lurking on the horizon.
But the price of Bitcoin is up 349% in 2017 and 667% over the past 12 months.