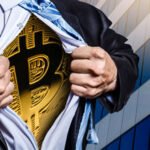 Life hasn't been easy for Bitcoin.
It's crashed multiple times.
It's been attacked by no less than Warren Buffett.
But it has survived all trials - and is getting stronger as time goes on.
According to the "Lindy Effect,." Bitcoin's hard-won survival tells us Bitcoin is likely to endure at least another decade.
And the longer it goes on, the more trust it builds - trust that's attracting more investors, including several big names.