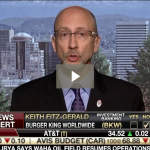 Burger King Worldwide Inc. (NYSE: BKW) is up nearly 25% today (Monday), following news that the company is negotiating the purchase of Canadian coffee chain Tim Hortons Inc. (NYSE: THI).
The move would create the third-largest fast-food company in the world, and would allow Burger King to move its headquarters to Canada - thus avoiding the high corporate tax rates of the United States. There have been more than 50 similar "tax inversion" deals in the last decade.
By leaving, Burger King is just doing exactly what the government "mandated that they do," and that could pay off big for shareholders...