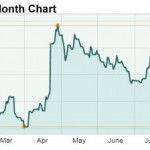 Wall Street celebrated the official launch of Windows 10 today (Wednesday) by adding 2.25% to Microsoft stock.
Think of that as a first installment on the benefit that Windows 10 will deliver to Microsoft Corp. (Nasdaq: MSFT) stock over the next few years.
And yes, even though Windows 10 is a free upgrade, it has great potential to lift MSFT stock.