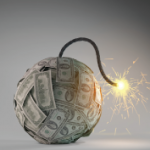 In an unstable economy, bond payment failures take on added import as bellwethers of ailing markets.
Especially when they involve large, well-known corporations.
On December 15, Caesars Entertainment failed to make a $225 million interest payment on its 10% Second Lien Notes due 2018.
Caesars has a 30-day grace period to make the payment or be declared in default.
On Friday, December 12, it was reported that negotiations with senior creditors regarding a debt restructuring had broken down.
This comes as no surprise to those of us who have been watching one of the ugliest situations in the debt markets unfold over the past couple of years.