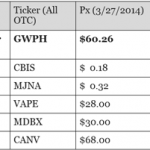 Back on March 27, 2014, I recommended that Money Morning Members pick up what I felt was the very best play in the burgeoning cannabis biotech industry.
Today, the shares have done even better than I imagined, which is why I wanted to touch base with you again.
And if you missed this stock last year - no worries. We'll start you now as it continues its run - a run that took off while "popular" medical marijuana stocks cratered.