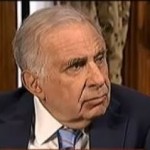 It's one thing to be optimistic about a stock, but activist investor Carl Icahn's letter to Apple Inc. (Nasdaq: AAPL) CEO Tim Cook tries to make the case that Apple stock is worth double its current price today.
The letter, released today (Thursday) following a teaser tweet the night before, is Icahn's second push to get Apple to use a major portion of its $133 billion in cash for stock buybacks.
But there's more to Icahn's game this time than simply increasing stock buybacks.