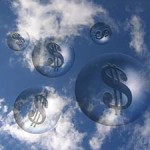 Peter Schiff, economist, best-selling author, and CEO of Euro Pacific Capital, believes a U.S. dollar crisis is underway.
"The dollar is very overvalued...and the dollar is a bubble," he told Newsmax Prime on Aug. 11. "This dollar bubble is going to burst."
Indeed, two weeks later and Schiff's prediction proved timely. The U.S. dollar index has suffered a fourth-straight loss, and U.S. markets have plummeted in the worst weekly sell-off in four years.