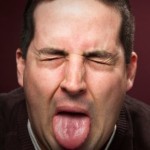 The Consumer Electronics Show 2014 (CES 2014) kicked off Monday morning from Las Vegas, giving tech enthusiasts four full days of mind-blowing innovation.
It also gives them a peek at the wacky side of innovation...
CES showcases more than 3,200 exhibitors - among them 140 startups - during its four-day run. Most of the popular products showcased are new, improved versions of tablets, computers, and smartphones - products you'll soon see on retailers' shelves.